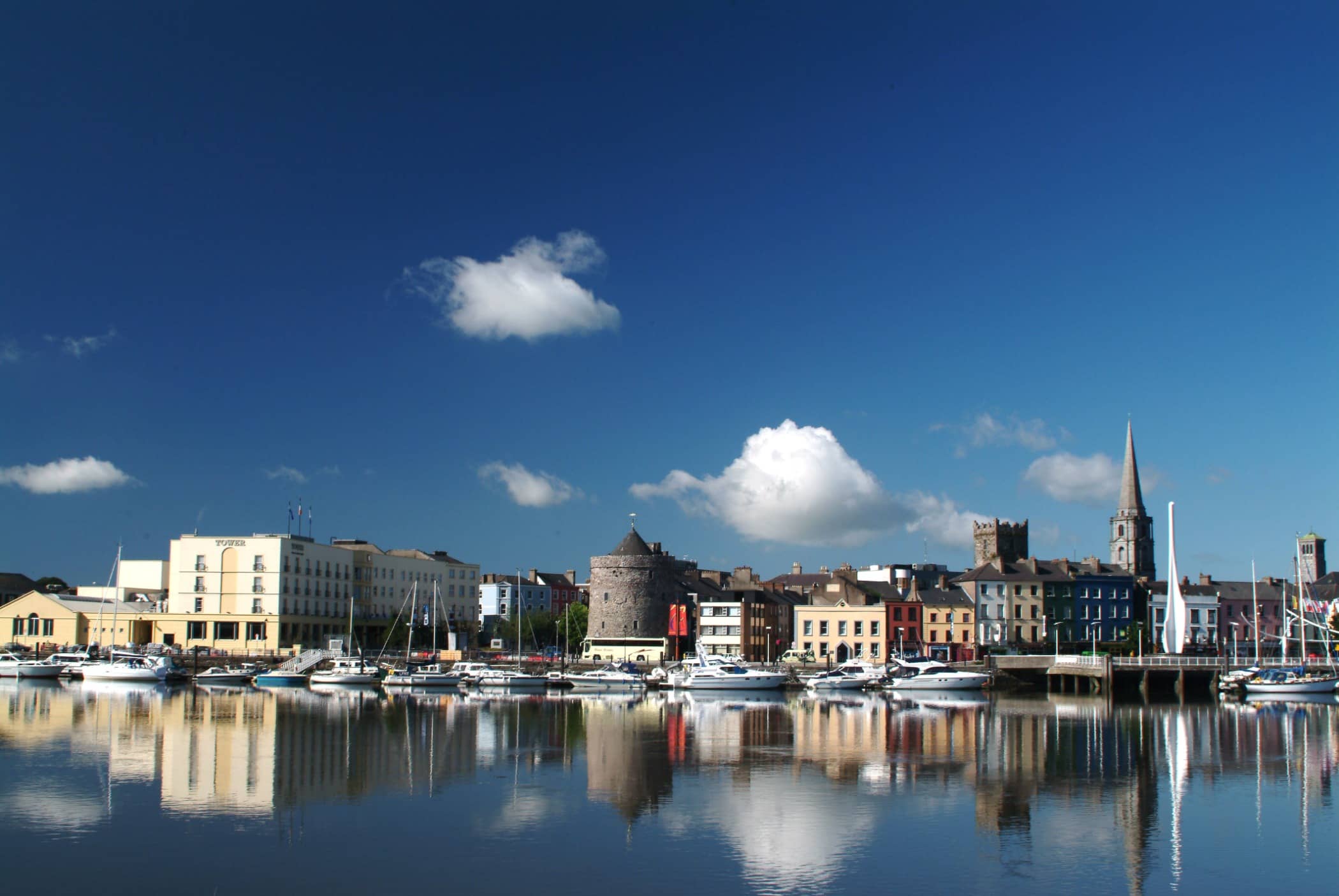 Waterford - Make a break for it
Waterford awaits with it wicked Vikings, wondrous treasures and amazing coastal views. Here, in Ireland's oldest city, you can come face to face with a virtual-reality Viking, see the only surviving item of King Henry VIII's clothing and watch exquisite crystalware being made.

Venture beyond the medieval city walls to the seaside town of Tramore for some tranquillity and tasty food and head off on an adventure to Dunmore East where you can walk the sea cliffs down to a secluded cove for a delightful dip.

Add to the unmissable experiences a thriving coffee scene (the first coffee shop in Ireland was established in Waterford in the 17th-century) and restaurants that place an emphasis on local produce, and Waterford gives you a real taste of Ireland's Ancient East.

So, what are you waiting for? Waterford will win you over, so start planning, get packing and make a break for it.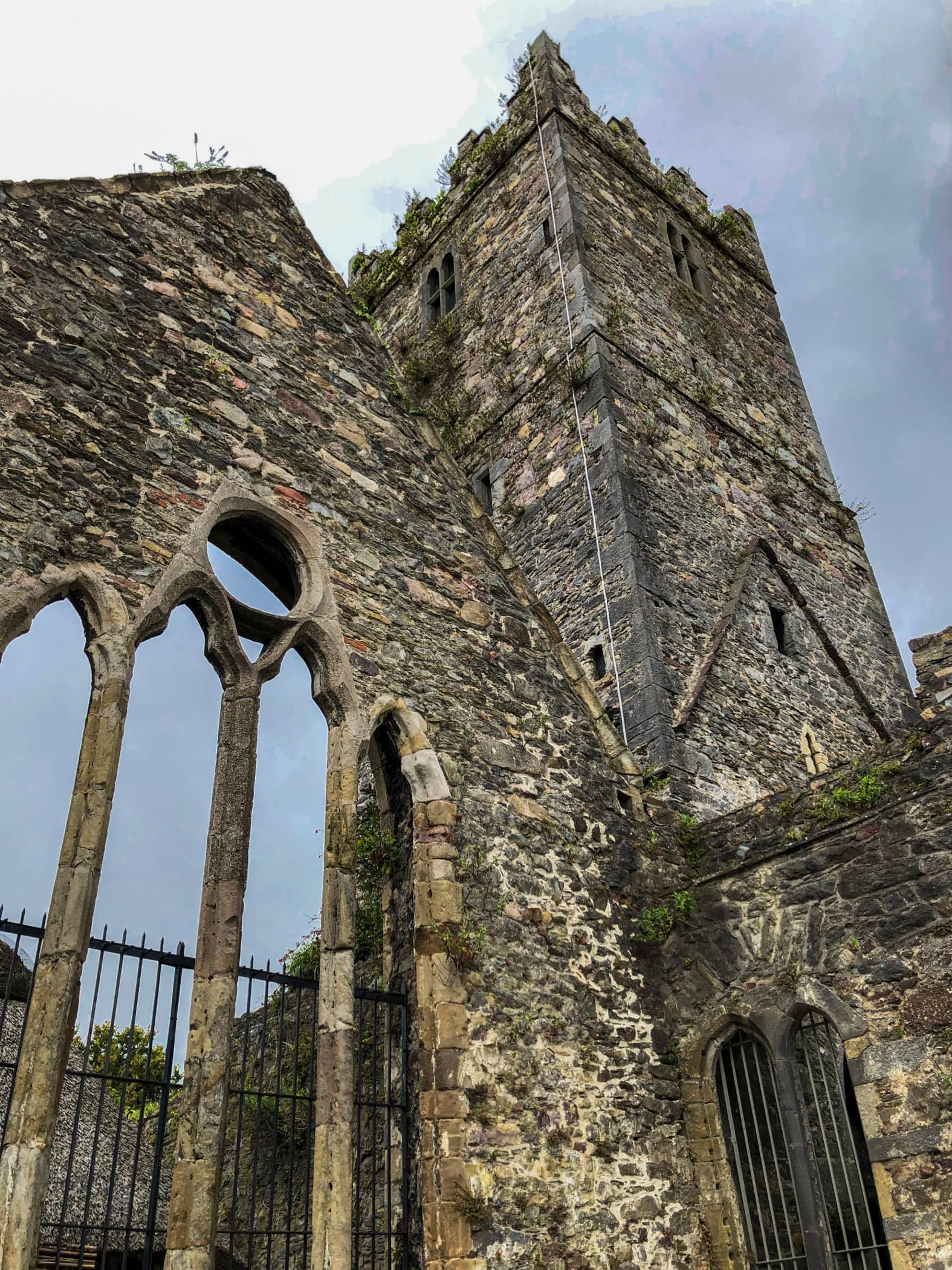 I don't need sponsors,
I surf better when I'm broke anyway.
Dave Parmenter Surfer
Viking Triangle
Step back in time and explore medieval Waterford and its Viking past. Uncover its treasures, fortress, ruins and relics with a walk around the Viking Triangle - the part of the city once enclosed by the city walls. The Viking Triangle is an atmospheric place with narrow streets, beautiful public spaces and plenty of cultural and heritage attractions.

As you make your way around the Viking Triangle you'll see nine national monuments including Reginald's Tower, Grey Friars medieval Franciscan friary, Choristers' Hall and Christ Church Cathedral which stands on the site of a Viking church where Strongbow married Aoife.

Top tip - Each location has a decorative information plaque telling its story and as you ramble from place to place you learn about the history of Waterford and its links with the Vikings, which first arrived in the eighth century, and you'll get a great overview of Irish history, too.

The Viking Triangle is home to three museums and the King of the Vikings Experience, all of which are just minutes from each other and take around two hours to explore. You really can explore 1,000 years of history within 1,000 paces in Waterford.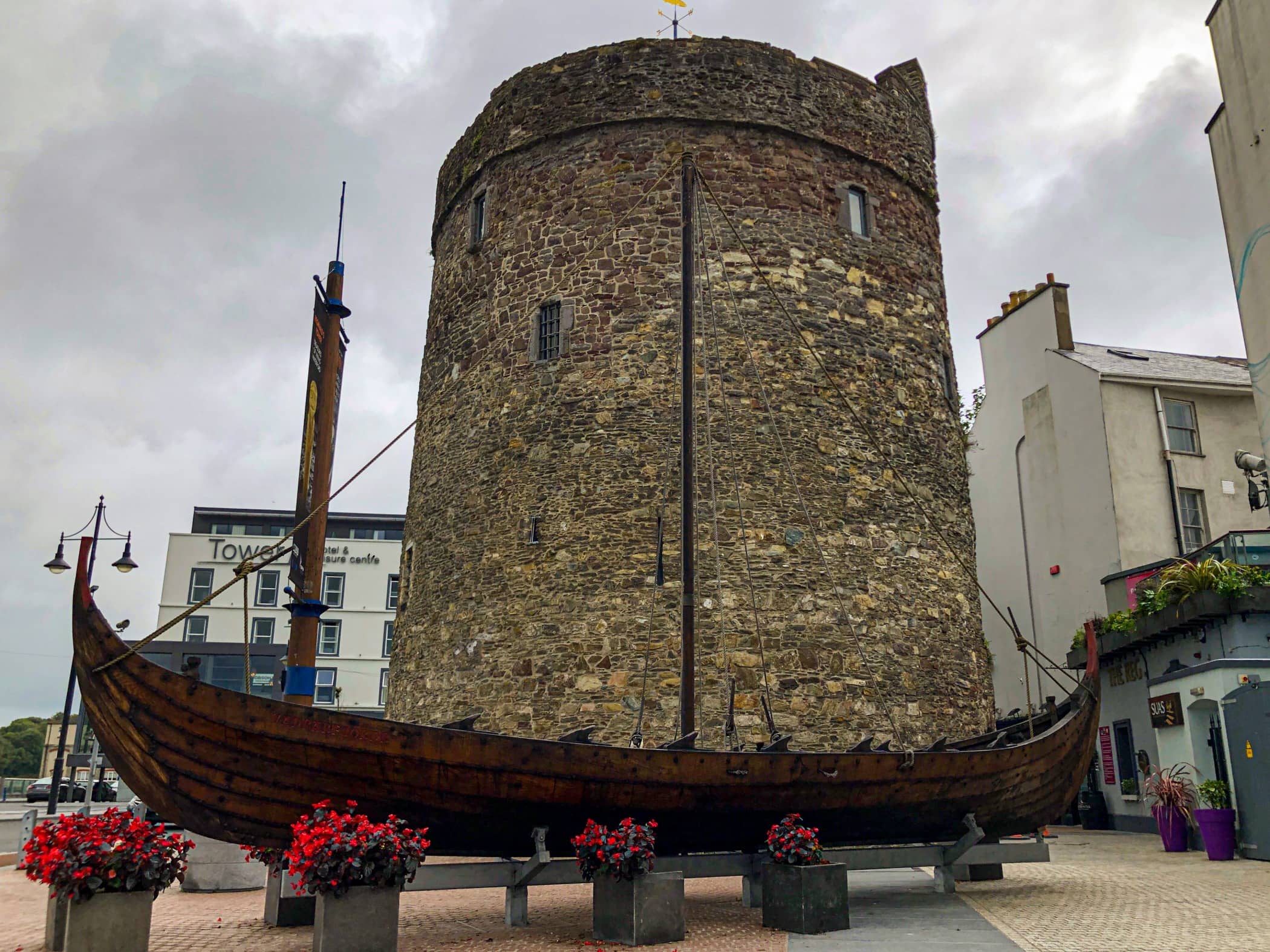 Waterford Treasures – Three Museums in the Viking Triangle
There are three magnificent museums in the Viking Triangle, known collectively as the Waterford Treasures. The museums are mere steps from each other and tell the story of Waterford and its intriguing history through interactive displays, artefacts and projections. The museums take you right from the founding of the city by Vikings in 914AD up to the present day.
Reginald's Tower
Did you know that the oldest and most historic urban medieval monument in Ireland is located in Waterford?

Built in 1003, Reginald's Tower was part of the city walls and is the only monument in Ireland named after a Viking. Climb the stone, spiral steps inside the fortress and marvel at the collection of Waterford's Viking treasures including the Kite Brooch, which dates back to the 12th century. Outside the tower, there is a photo opportunity with a Viking and a longboat. It's an impressive building not to be missed even if just seeing it from the outside.
Top tip - Reginald's Tower is managed by the OPW and is currently closed, but keep checking the website for its reopening date.
The Medieval Museum
The beautiful butter-coloured stone building in the heart of the Viking Triangle is The Medieval Museum. Incorporating two medieval chambers - the 13th-century Choristers' Hall and the 15th centre Mayor's Wine Vault - The Medieval Museum is also home to King Henry VIII's velvet 'Cap of Maintenance' which he gifted to the Mayor of Waterford in 1536. It is the only surviving item of Henry VIII's wardrobe in the world.

But that's not all! There are more extraordinary items of clothing on display including the Heavens' Embroidered Cloths, Waterford's cloth-of-gold 15th-century vestments. These pieces, which were woven in Florence, embroidered in Bruges and buried in Waterford, are now on display in light-, temperature- and humidity-controlled bullet-proof glass cases. Yes, they are that valuable and important.

Of course, it's not just clothing on display, there is a wealth of remarkable treasures in the Medieval Museum as well as three audiovisual presentations and a gift shop.
Top tip - Save money by buying a combined admission ticket to the Medieval Museum and Bishop's Palace.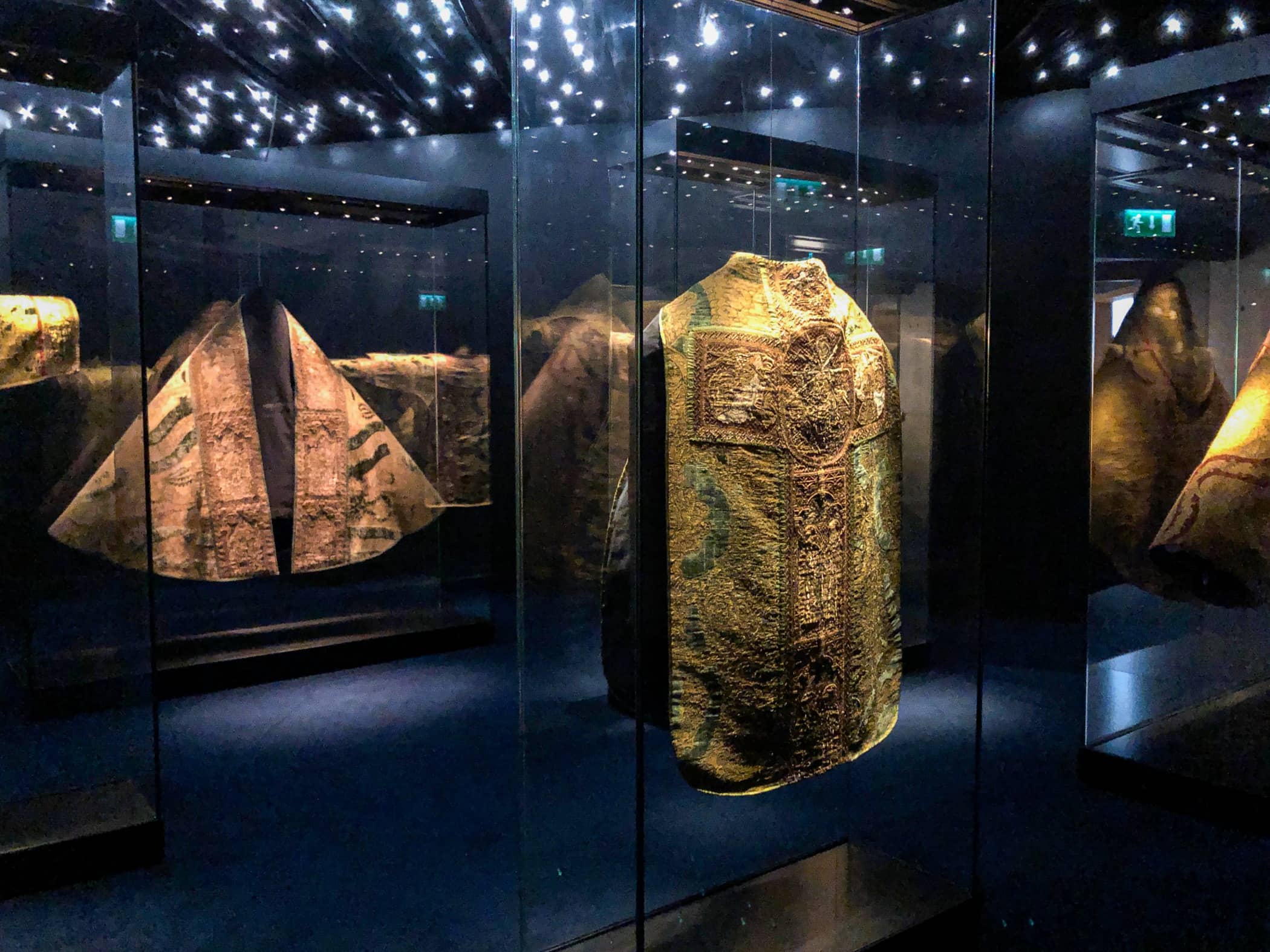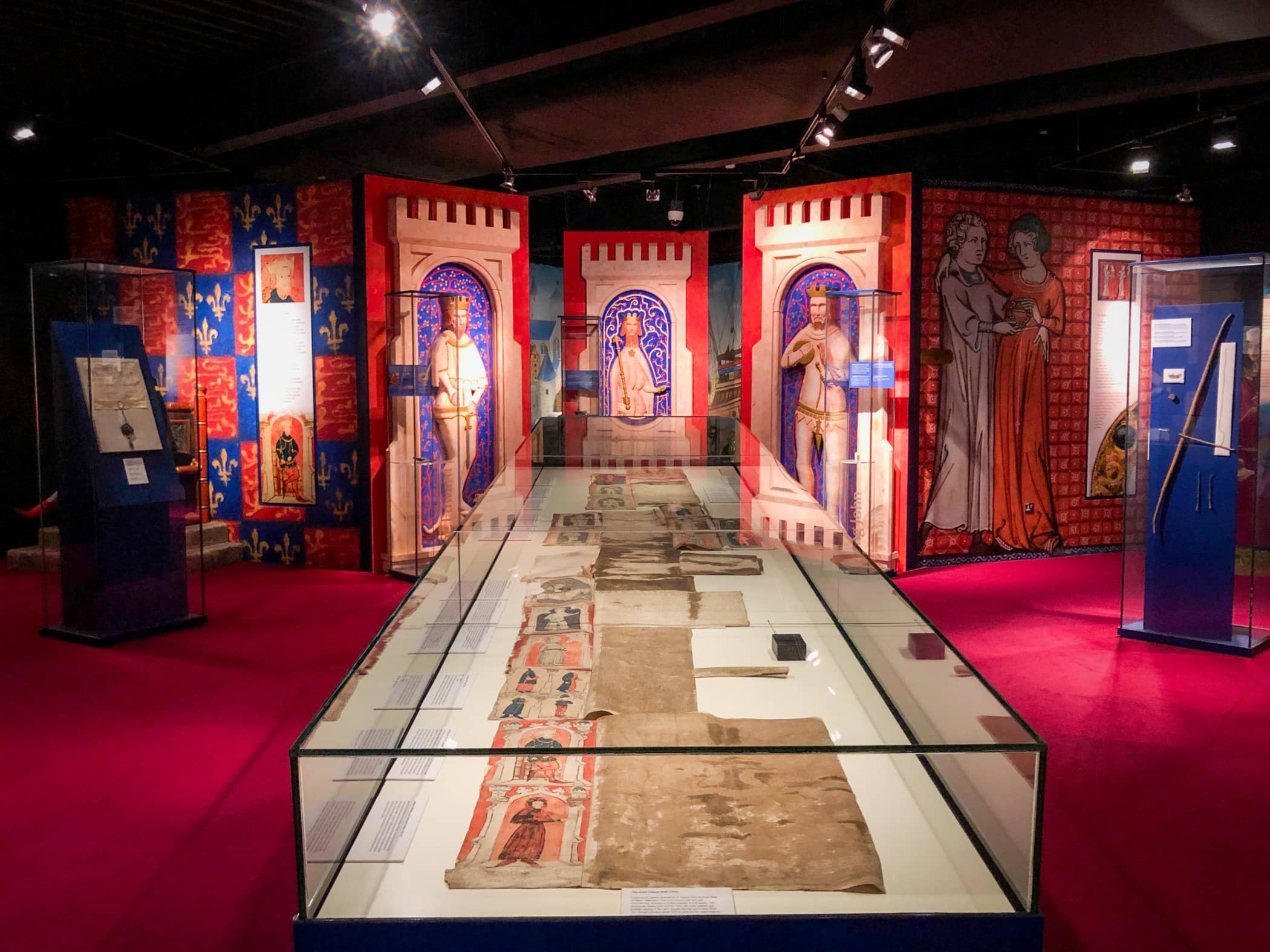 Bishop's Place
Want to know how the wealthy Waterford folk lived back in the day? Visit Bishop's Palace and swan around this handsome double-fronted 18th-century townhouse that charts the history of Waterford from 1700 to 1970. This beautiful building holds Waterford's Georgian treasures and the first two floors are furnished and decorated in the style of an elegant townhouse.

Majestic artwork adorns the walls and along with beautiful objets d'art you'll find the oldest surviving piece of Waterford Crystal - a Penrose decanter which dates back to 1789.

Want to know more about crystal making in Waterford? Then sit back and enjoy the Masterpieces in Glass 4D exhibition, a seventeen-minute presentation which takes viewers on an immersive journey across the history of glassmaking in Waterford.

Top tip - Visit Bishop's Palace before you do the Waterford Crystal Factory Tour as the exhibition will put everything in perspective.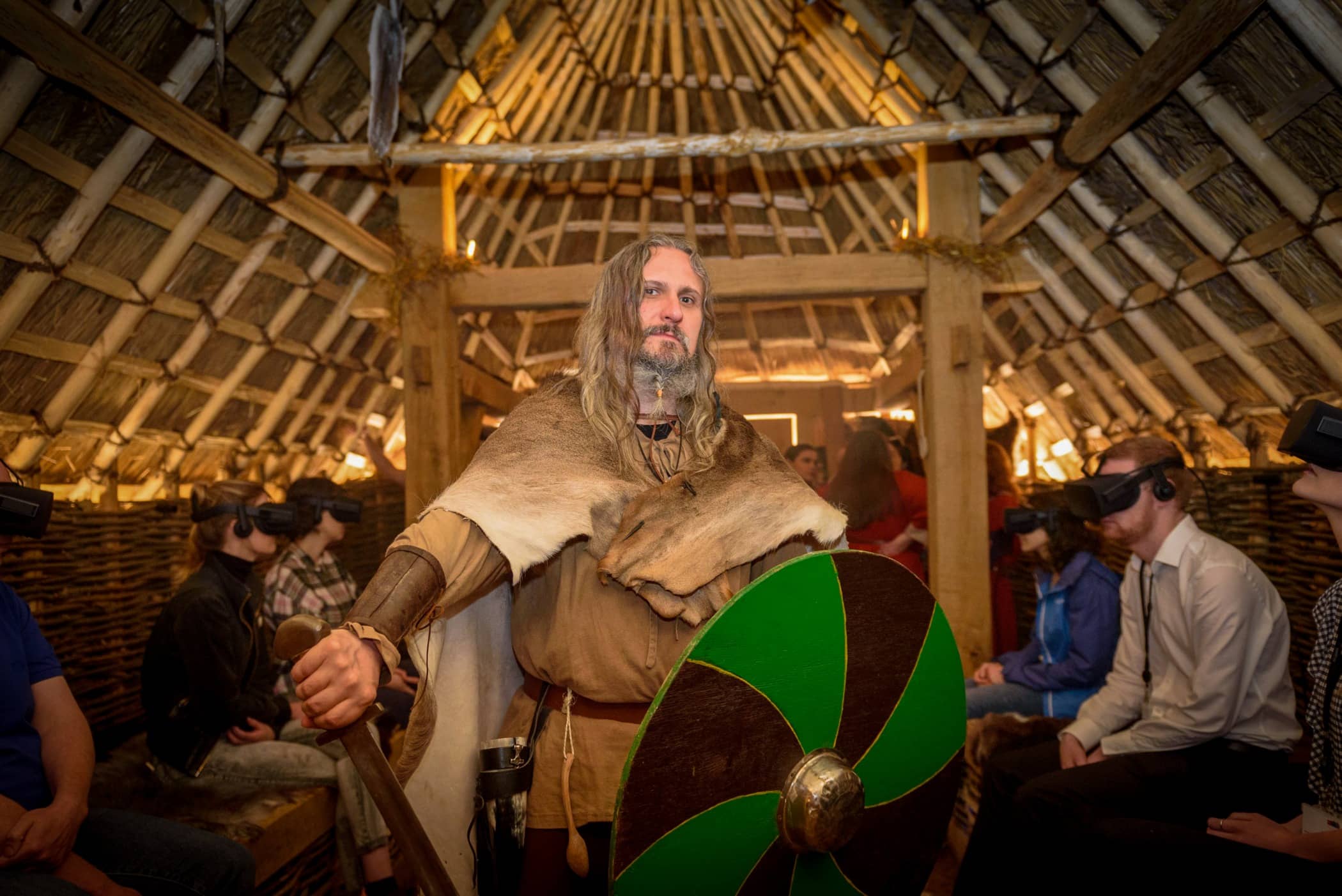 King of the Vikings VR experience
Step into the authentic Viking house and step back in time as Viking Ireland comes to life right before your eyes and you come face to face with King Reginald, who came to power in 917 and built the city.

Don the headset and goggles and be thrilled and enthralled with the world's first 3D virtual reality Viking adventure. Journey back to Viking times as epic voyages and battles take place and you are immersed in the action.

The effects, both visually and aural are breathtaking and the storytelling and narrative are both informative and entertaining. The experience is enhanced by the setting - a recreated wattle and daub house with a thatched roof set inside the ruins of a 13th-century Franciscan Friary in the heart of Waterford's Viking Triangle.

The King of the Vikings VR experience is engaging and enjoyable and will impress people of all ages.

House of Waterford Crystal Factory Tour
Watch in wonder as Waterford Crystal's master crafters create the most magnificent crystalware.

Your tour starts in the sparkling showroom and shop before heading to the factory in the next building. A short audiovisual display and talk give you an overview of the long history of crystal making in Waterford. You then file into the factory to the first stop, which is the mould making department where the wooden moulds are sculpted.

The blowing room is the next stop where you'll see red-hot molten crystal take shape as the blowers get to work creating elegant designs. The noise, heat and hustle is a heady mix and you really get a sense of what it is like to work here.

You then watch from above as the crystal is inspected - listen out for the smashing as any imperfect crystal is rejected and sent back to the furnace - before moving on to the hand-marking and cutting areas where Master Cutters use a diamond wheel to etch out the pattern. Finally, watch in awe as the sculptors work three-dimensionally to carve the crystal into masterpieces.

The Waterford Crystal Factory Tour gets you up close to the master crafters and gives real insight to what it takes to create a piece of Waterford Crystal giving you an appreciation of the time, skill and care that goes into the work. It is a fascinating factory tour which can last between 90 minutes and two hours.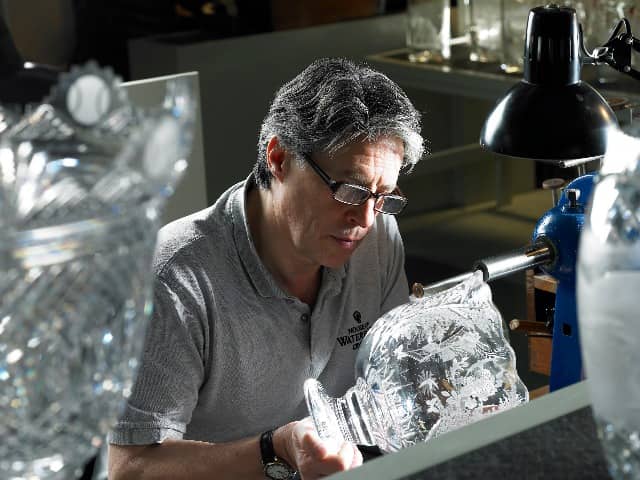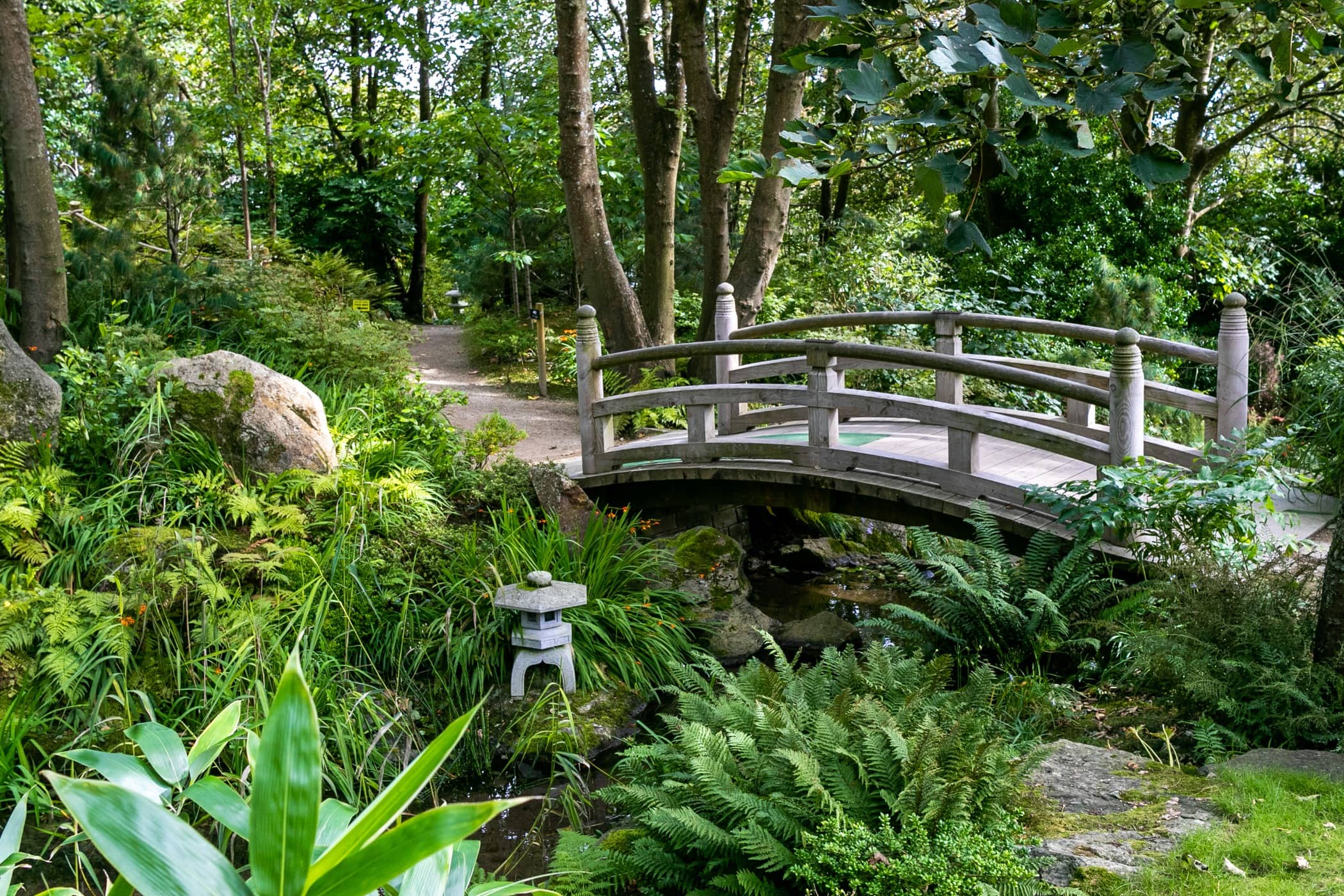 Dooley's Dry Dock Bar
If all that walking has worked up an appetite, make your way to Dooley's Dry Dock Bar which occupies a prominent quayside location in the heart of Waterford. Nab a window seat if you can and watch the water and the world go by as you relax in the comfortable, casual and characterful surroundings.

Menus are a mixture of local and international influences including local Irish steaks, fresh seafood from the trawlers of Dunmore East alongside dishes like traditional eastern European latke potato pancakes and firm favourites like flavourful chicken wings.

There is a strong emphasis on locally sourced produce - make sure you try the house-made brown bread and berry compote, locally grown and milled porridge and Walsh's Bakehouse Blaa (a fluffy bread roll made in Waterford that has the same protected geographical status as champagne) - all of which give you a real taste of the region.

From Waterford City Centre, take a spin 13km south to the seaside town of Tramore.
Lafcadio Hearne Japanese Gardens
Head to the Far East without leaving the Sunny South East.

Ever heard of Patrick Lafcadio Hearn? No, us neither, but a visit to the tranquil Japanese gardens in Tramore will introduce you to the man and his works, many of which are regarded as classics in Japan. And the connection with Tramore? Lafcadio Hearn spent his childhood summers in this lovely seaside town.

Eleven gardens tell the story of Lafcadio Hearn's life, each one reflecting elements of the countries he visited. There is a Victorian Garden, American Garden, Greek Garden and Japanese-inspired spaces with a traditional tea house and tea garden and a stream which leads to a pond and waterfall. The gardens are stunningly and peaceful and a glorious hidden gem in Waterford.

A wonderful discovery trail will captivate children as will the secret pathways, woodlands and translations of Lafcadio Hearn's fairytales and folklore. It really is an enchanted garden.

Before you leave, enjoy a drink and snack on the terrace which has sweeping views of Tramore beach and the gardens.

Top tip - The visitor room sells a small selection of Japanese crafts including origami books, cranes, jewellery, souvenirs and Lafcadio Hearn books.

Looking for somewhere to eat nearby? From the Japanese Gardens, The Vee Bistro is just a few minutes walk away.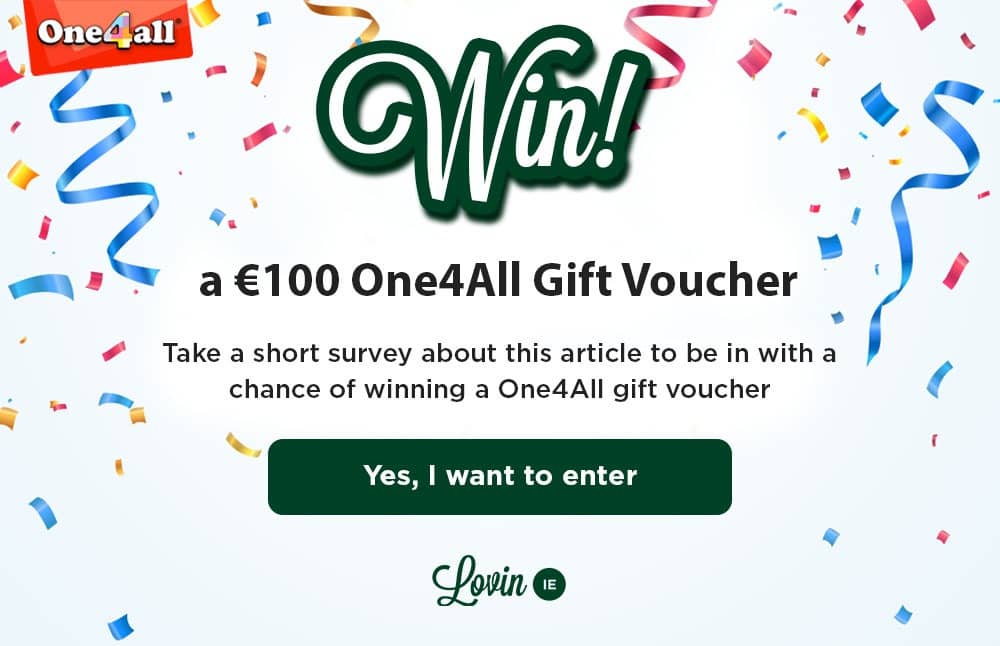 The Vee Bistro
Grab a table outside if the weather is good or cosy up inside at The Vee Bistro in Tramore, where tasty treats and gorgeous goodies await.

The vibe at The Vee is relaxed and friendly with menus that focus on fresh ingredients from local suppliers. Breakfast consists of traditional, hearty fare including a Jumbo Irish fry for the really hungry, pancakes for those who like something sweet, and lighter options too. Lunch is a wonderful selection of soups, salads, sandwiches, pies and panini alongside some seriously tempting sweet treats - the warm blueberry and white chocolate scones are fluffy and fabulous.

As for beverages, The Vee Bistro brews Blue Butterfly coffee which is from a local Waterford company.

As you can see, eating at The Vee is a great way to sample some of the fantastic produce that the region has to offer as well as experiencing the warm welcome provided by owners Catherine and Derek and their team.

Suitably refuelled, take a drive out to Dunmore East, a 20-minute drive away from Tramore.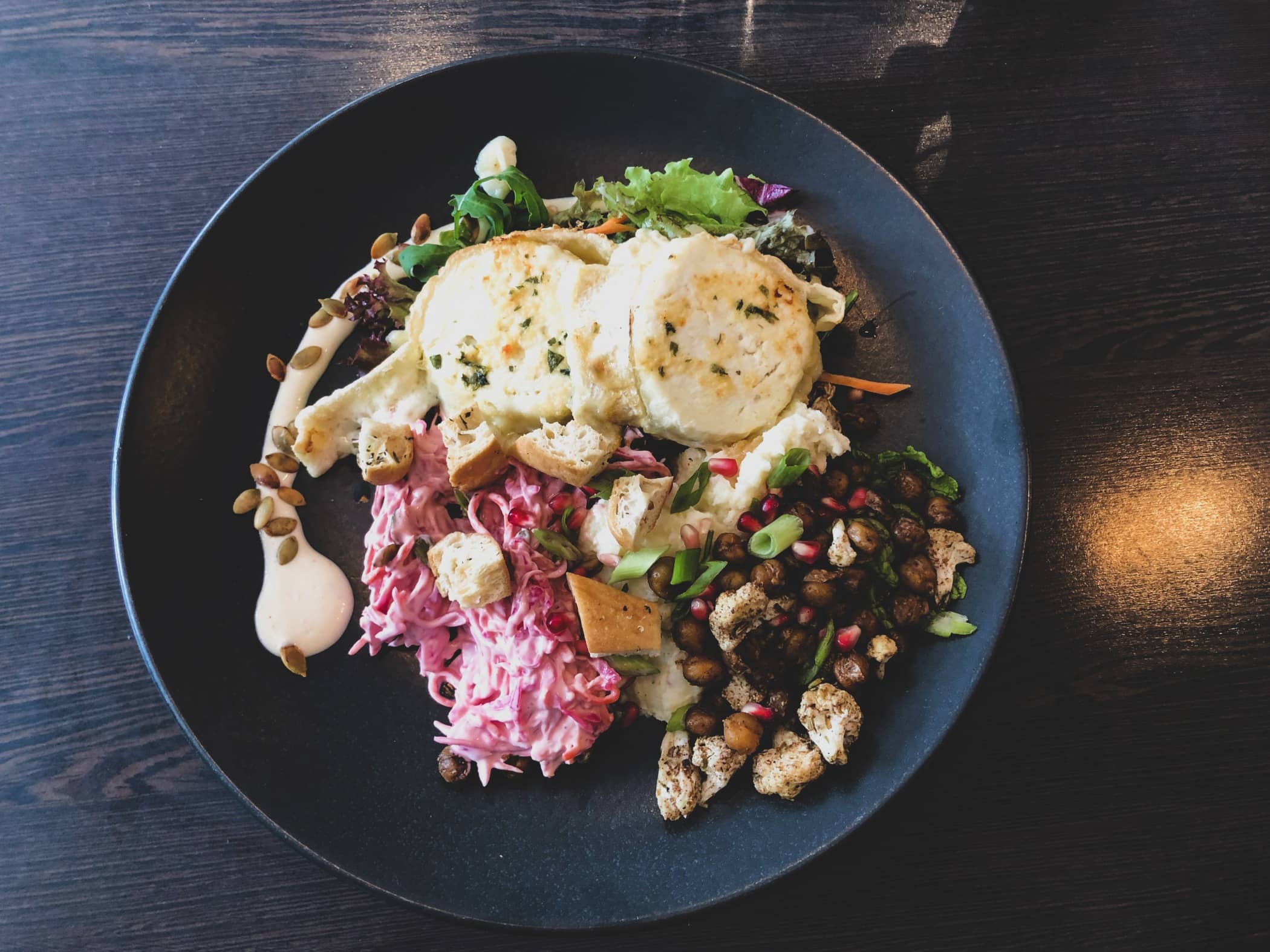 Dunmore East Coastal Walk
Breathe in the sea air and blow away the cobwebs with a blustery walk along the cliffs at Dunmore East - a pretty and popular fishing village on the west side of Waterford Harbour.

The coastal walk links Dunmore East Harbour with picturesque Portally Cove. Time the walk with the tide and you can go for a dip at the cove and bring your goggles too as this is a great place for snorkelling.

But you don't need to go underwater to see some wildlife. As you walk, watch out for the kittiwake colony and look skyward to spot fulmars, red-legged choughs, cormorants and shags, and out on the water you might catch a glimpse of seals swimming. But perhaps the most spectacular display of nature at this time of year is the blooming thrift, thyme and gorse that covers the cliffs in a colourful carpet of pink, purple and yellow.

The Dunmore East Coastal Walk starts at the back of the Old Convent, there is a signpost on the wall, and it is roughly 2km to Portally Cove and the walk can be done in about 20 minutes. It is a relatively easy walk, quite flat but there are some steps and inclines and the terrain isn't suitable for pushchairs.

The views out to sea are terrific and although it doesn't take long to complete the walk, you'll want to allow extra time to stop and take photos, admire the scenery and relax on the benches dotted along the route.

Top tip - The trail can get a little slippy in the rain, so wear suitable footwear.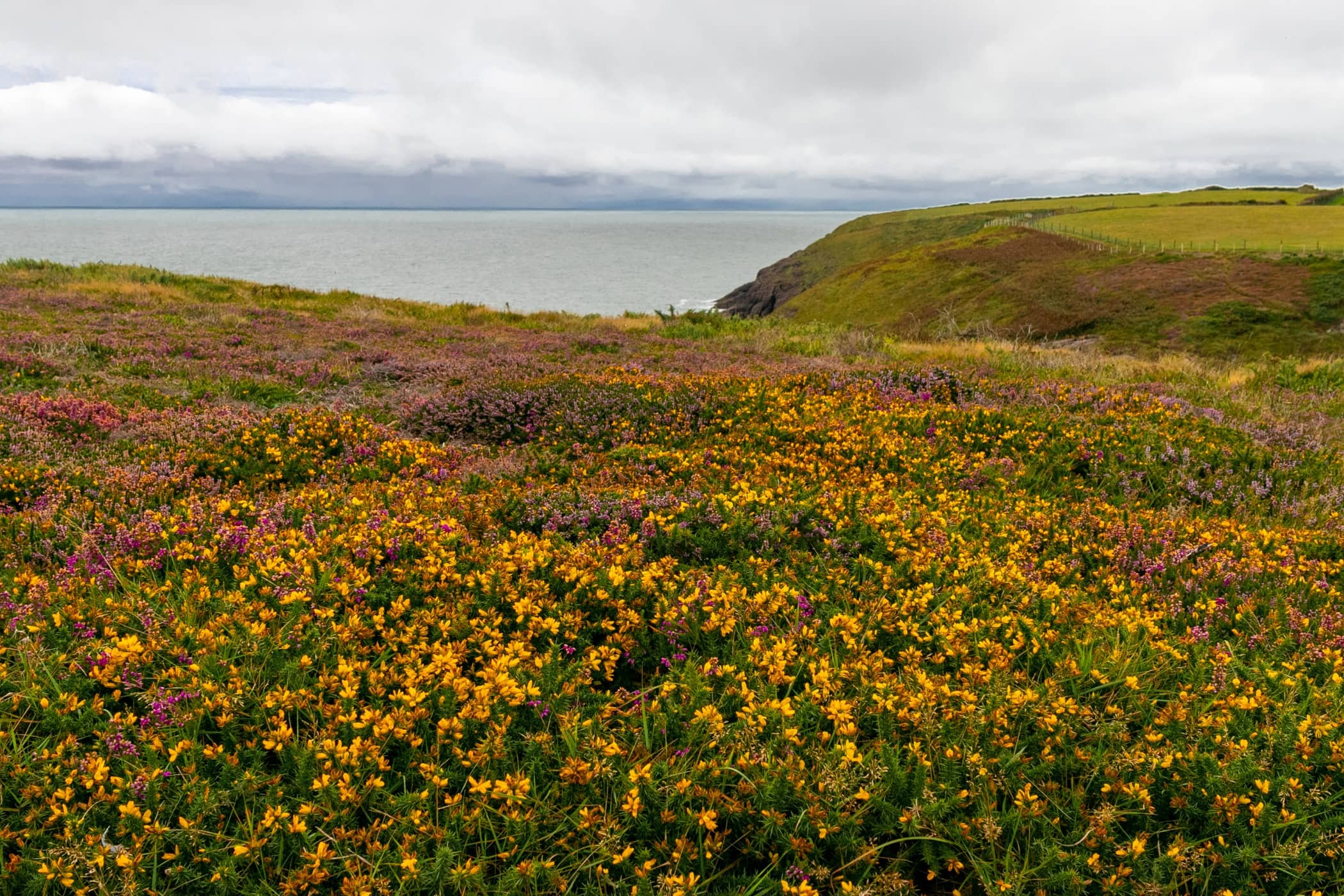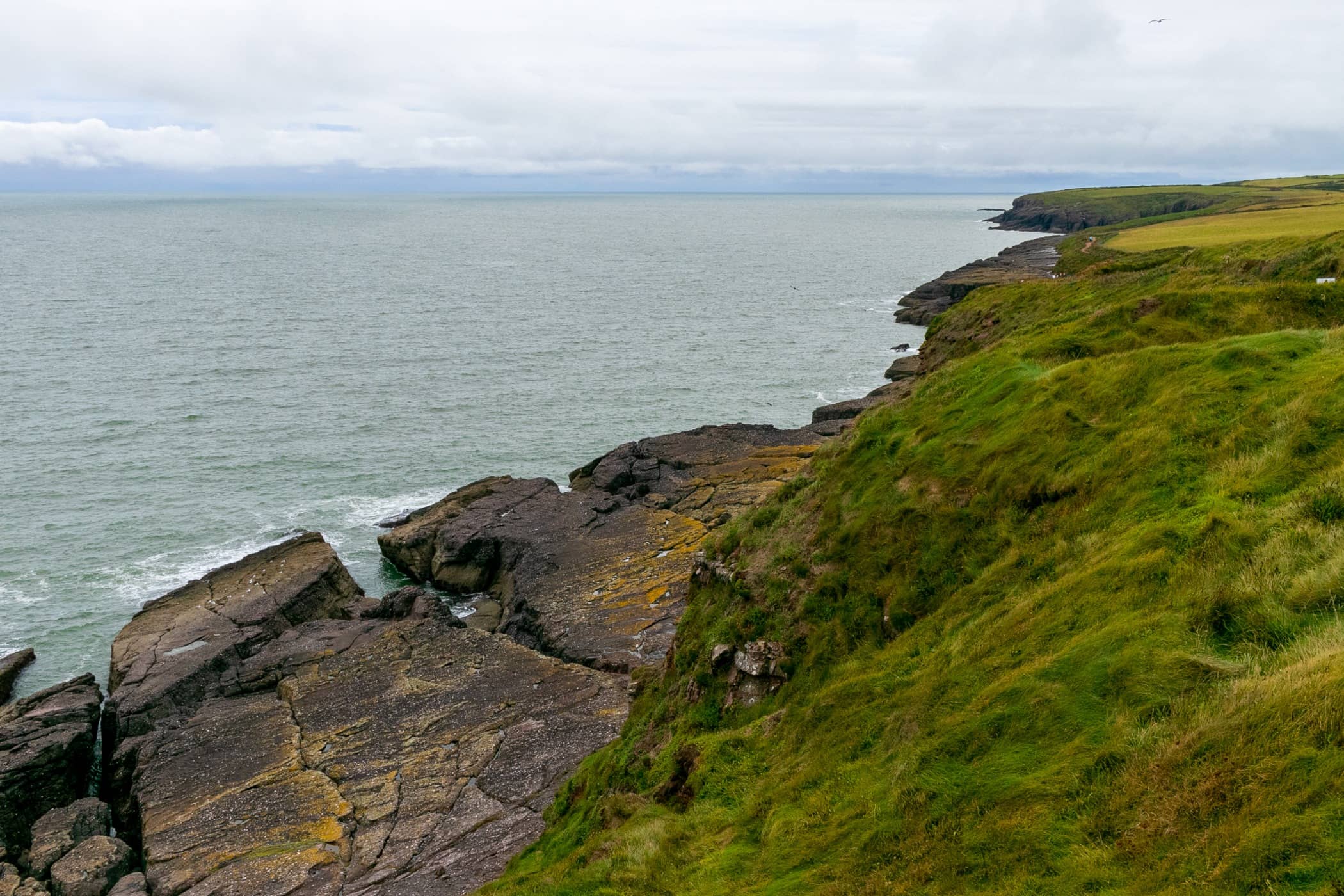 Make a Break For It to Waterford
Waterford wows as a land of legends, warriors, Kings and Vikings. With its historic medieval centre full of unmissable experiences and cultural riches and the beautiful coastline nearby, it is an ideal destination for combining a city break with a beach holiday.

It may be Ireland's oldest city, but Waterford is thoroughly modern with a thriving coffee scene, restaurants that proudly show off local produce and visitor attractions that use cutting edge technology to enthral and excite.

So go on, make a break for it! It's time to start planning, time to start counting down the days and, most importantly, time to get excited about your very own wonderful Waterford getaway.

Limited capacity and procedures may be in place at visitor attractions, sites and restaurants so you are encouraged to book ahead to avoid disappointment.

In partnership with Discover Ireland