8 amazing things to see and do along
Donegal's Wild Atlantic Way

With some of the highest sea cliffs in Europe, the longest county coastline and Ireland's largest Gaeltacht area, Donegal is a destination that appeals to the inquisitive and intrepid.
Its wonderful waves, preserved traditions and rugged landscapes along the Wild Atlantic Way offer plenty of exhilarating experiences and make for a memorable getaway. Ready for an authentic taste of Ireland? Here are some unique things to do in delightful Donegal.
Glimpse into daily life as it was during past centuries at the gorgeous Glencolmcille Folk Village. This replica rural village overlooks the idyllic Glen Bay Beach in southwest Donegal's Gaeltacht and exhibits the best of Irish heritage.
There is an interpretative centre, craft shop, tea house, school house, shebeen and replica thatched cottages from the 17th, 18th, and 19th centuries. The drive through this part of the country is incredibly scenic with spectacular vistas of the sea along the way. Once you arrive at the Glencolmcille Folk Village, you can visit the old schoolhouse and brush up on your modh coinníollach, enjoy a traditional tweed spinning and weaving demonstration, and round off a great day with a delicious afternoon tea served in one of the village's tea houses.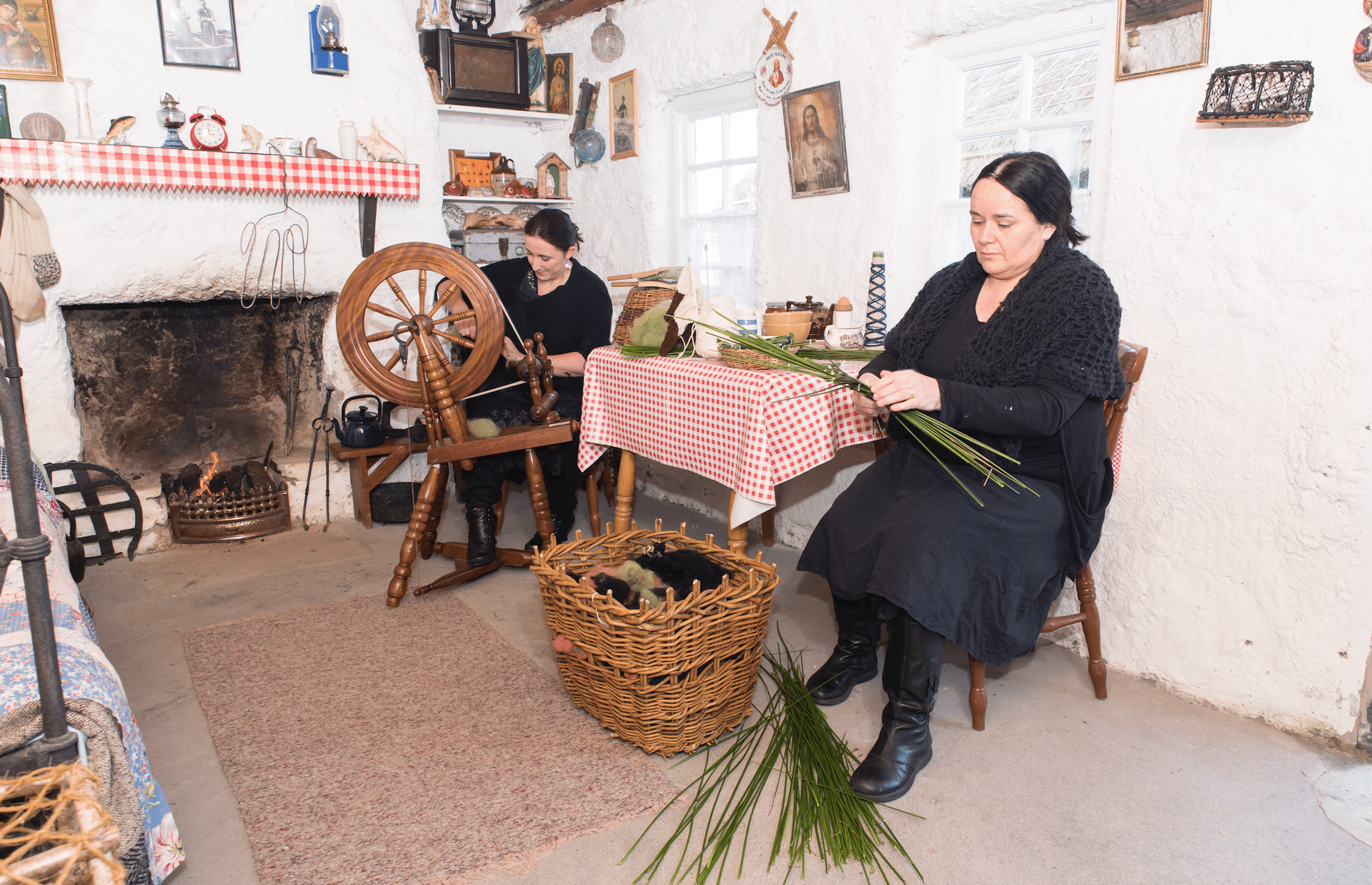 No doubt with all those stunning seascapes you'll be dying to get out on the water and see Donegal from a watery perspective. And you can do so from Killybegs with Atlantic Coastal Cruises.
On board the Sliabh Liag Allure boat, you'll cruise along the rugged Donegal coastline where you'll see the soaring Sliabh Liag cliffs, which are some of the highest sea cliffs in Ireland, and when viewed from the water you get a true sense of their magnificence. You'll also pass by Rotten Island Lighthouse, which has marked the entrance to the port for almost 200 years. Oh, and keep your eyes peeled for dolphins, seals and even the occasional whale. Speaking of animals, you can bring your furry family members on the cruise too.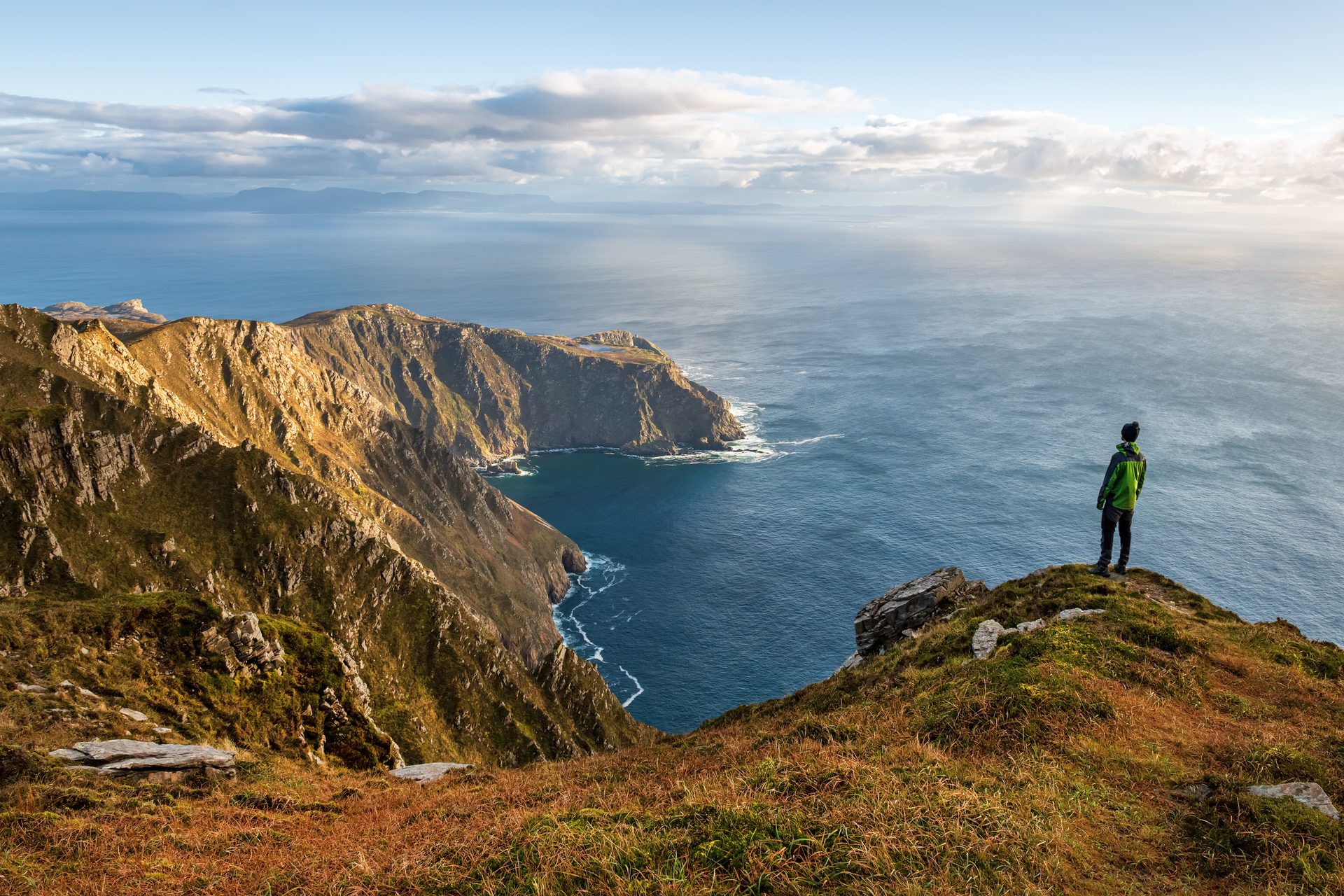 All that sea air will have worked up an appetite, so head to family-run Café Ahoy on the shoreline of Killybegs. Located in a beautifully renovated cottage, here you can warm up with great coffees and speciality teas, and fill up on freshly baked scones, cakes, and other comforting baked goods.
If you get here early, you can enjoy a hearty breakfast, which is served until 12pm, and lunch is a wonderful selection of soups, salads, and sambos. Make sure you check out the daily specials, which can include mussels, haddock and chips, fresh crab, and fish pie. You really should sample the seafood which comes fresh off the boats in the harbour.
On a fine day, the outside terrace is delightful but for extra cosiness, grab a seat inside by the roaring fire.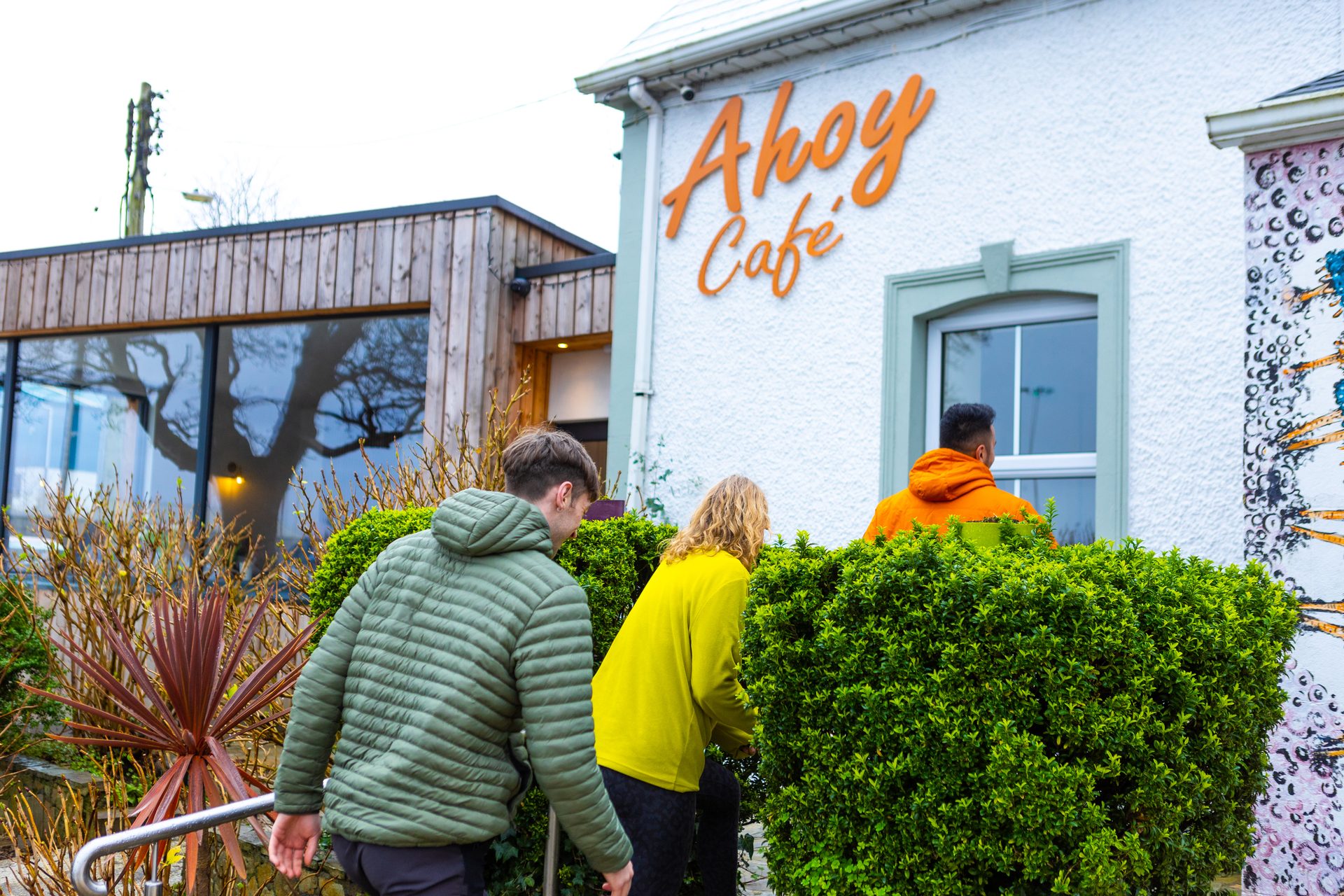 Whilst you are in this area, why not take a spin out to Rossnowlagh beach which is just a 40-minute drive from Killybegs? A Blue Flag beach, Rossnowlagh stretches for 2km and is very popular with locals and day-trippers. Surfers flock to this beach as it is one of Ireland's most renowned surfing beaches because of the great swell due to the beach's westerly facing direction exposing it to the wild Atlantic waves.
Whether you are a pro or an intermediate, you'll find the conditions at Rossnowlagh perfect and enjoyable come rain or come shine. Get a lesson with the excellent Rossnowlagh Surf School and before you know it, you'll be catching the waves and hanging ten on this beautiful beach which is a very scenic setting for surfing.
After the surf, you can take the 16km Creevy Coastal Path along the cliff tops for some spectacular views.
Who doesn't love llamas? These gentle, curious, and adorably fluffy animals are incredibly friendly and love hanging out with humans. If you would like to spend a leisurely few hours with a llama, then head to Campview Farm, a short 15-minute drive from Rossnowlagh.
Llama trekking at Campview Farm takes place in stunning surroundings by the Erne Estuary and as you and your new furry friend stroll through the protected area of conservation, you'll also see and hear the wintering birds along the shore, and the farm animals grazing peacefully. It is a truly unique, memorable and endorphin-inducing experience. Spending time with these cute camelids is guaranteed to make you smile.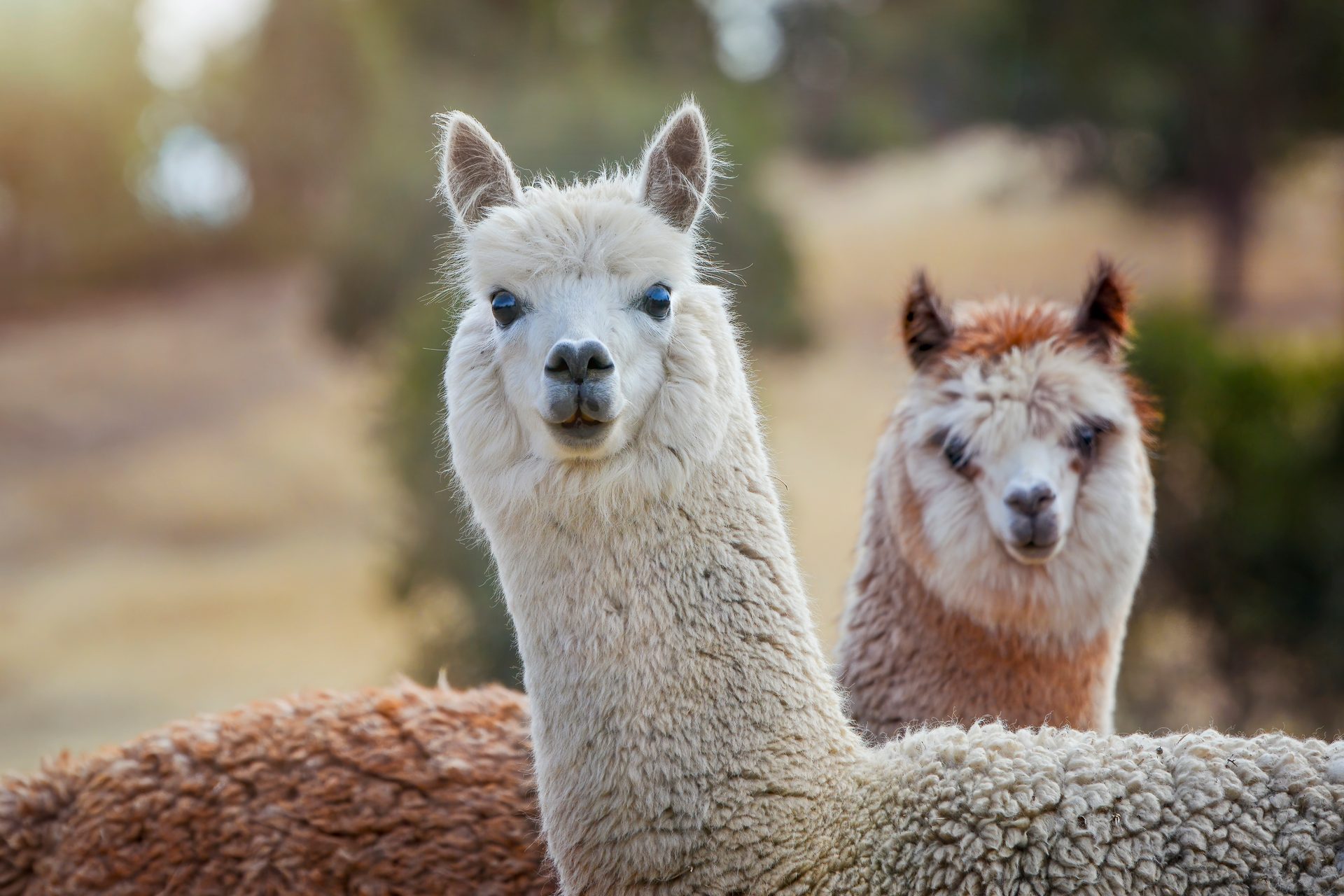 Take the reins on your holiday and hop on a horse at the Donegal Equestrian Centre and gallop across the golden sands of Tullan Strand or take in the magnificent mountain views from the saddle.
Choose from a selection of well-trained horses and ponies to suit all abilities, and then choose your prefered activity - from a quiet amble in the sand dunes to an exhilarating horseback adventure along the Wild Atlantic Way - you can be as mild or wild as you like. Yee-haw!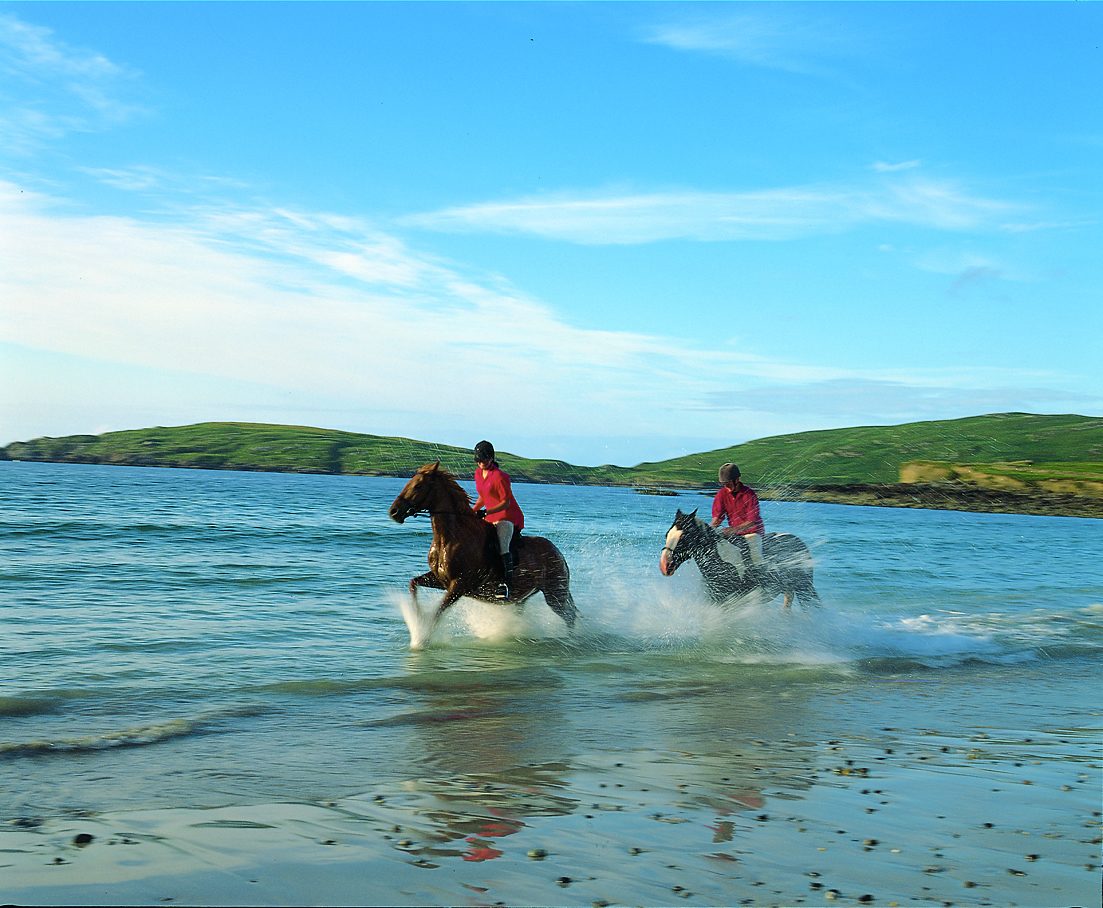 If you prefer to see the scenery on foot, then lace up those hiking boots and take to some of the wonderful walking tracks around the region.
The Rougey Walk is a moderate looped route that begins at the Bundoran Tourist Office and follows the path along the promenade passing Bundoran's Blue Flag beach. The walk continues around the headland where you can enjoy the sweeping views of the Atlantic Ocean.
Also along this route, you can visit the enchanting Fairy Bridges and Wishing Chair. Dating from the 1700s, the Fairy Bridges is a natural arch in the cliffs with blow holes which are haunted by fairies, hence the name, The Fairy Bridges. Adjacent to the Fairy Bridges, is The Wishing Chair, a natural stone chair that legend says has magical powers. To harness these powers, you need to sit slowly in its seat and contemplate the stunning surroundings, before tapping the chair twice and making a wish. Will your wish come true?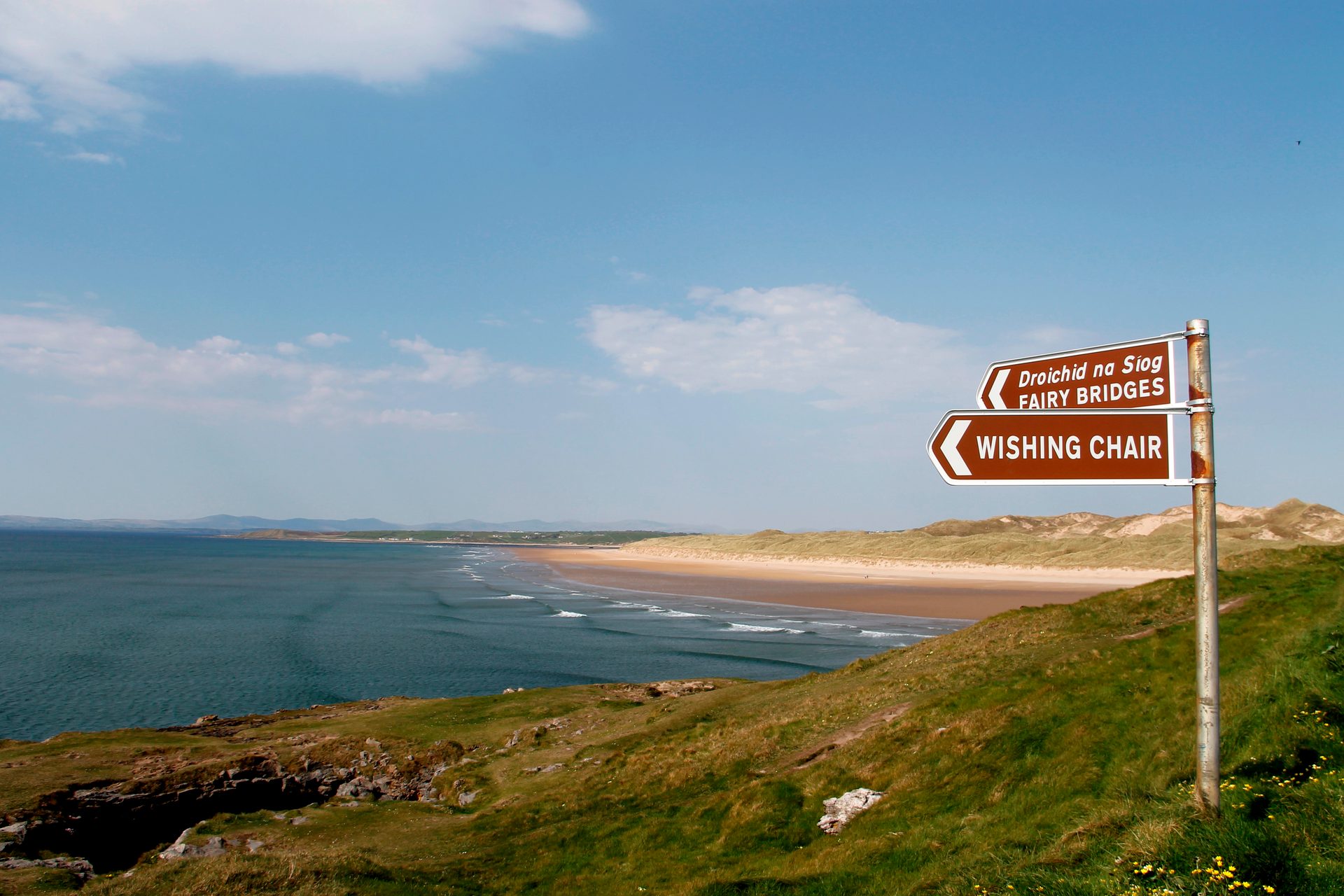 If your wish is for some delicious food and great coffee, it will be granted when you walk through the door of The Salty Fox, located just metres from Tullan Strand Beach in Bundoran. This award-winning family-run cafe serves fresh homemade food including a hearty breakfast menu, lovely hot and cold lunch options and scrumptious cakes and desserts. Bright and beautiful, this cafe is the perfect place to warm up and chill out after a day of galloping and gallivanting along the beach.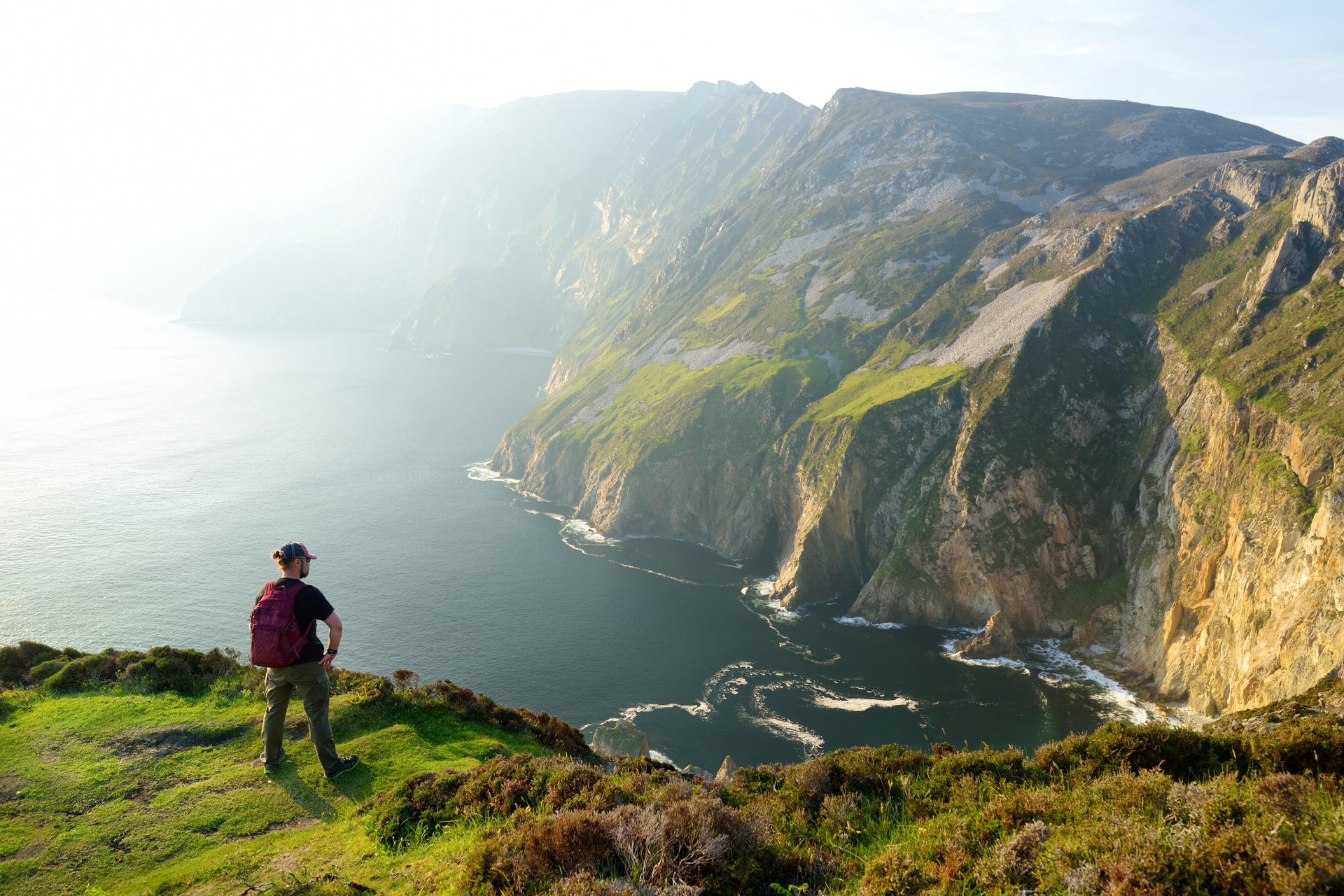 So, what are you waiting for? Why not book a break this autumn? Whether you are into horses or heritage, walking, waves, or wildlife, you can enjoy all of these experiences and more in delightful Donegal.
The Leave No Trace principles help us make as little an impact as possible on the incredible Irish landscape as we explore the outdoors this summer and beyond. Keep outdoor areas safe, clean and free from waste/hazards, and help protect the natural environment. Love this place, leave no trace.
Start your discovery at DiscoverIreland.ie