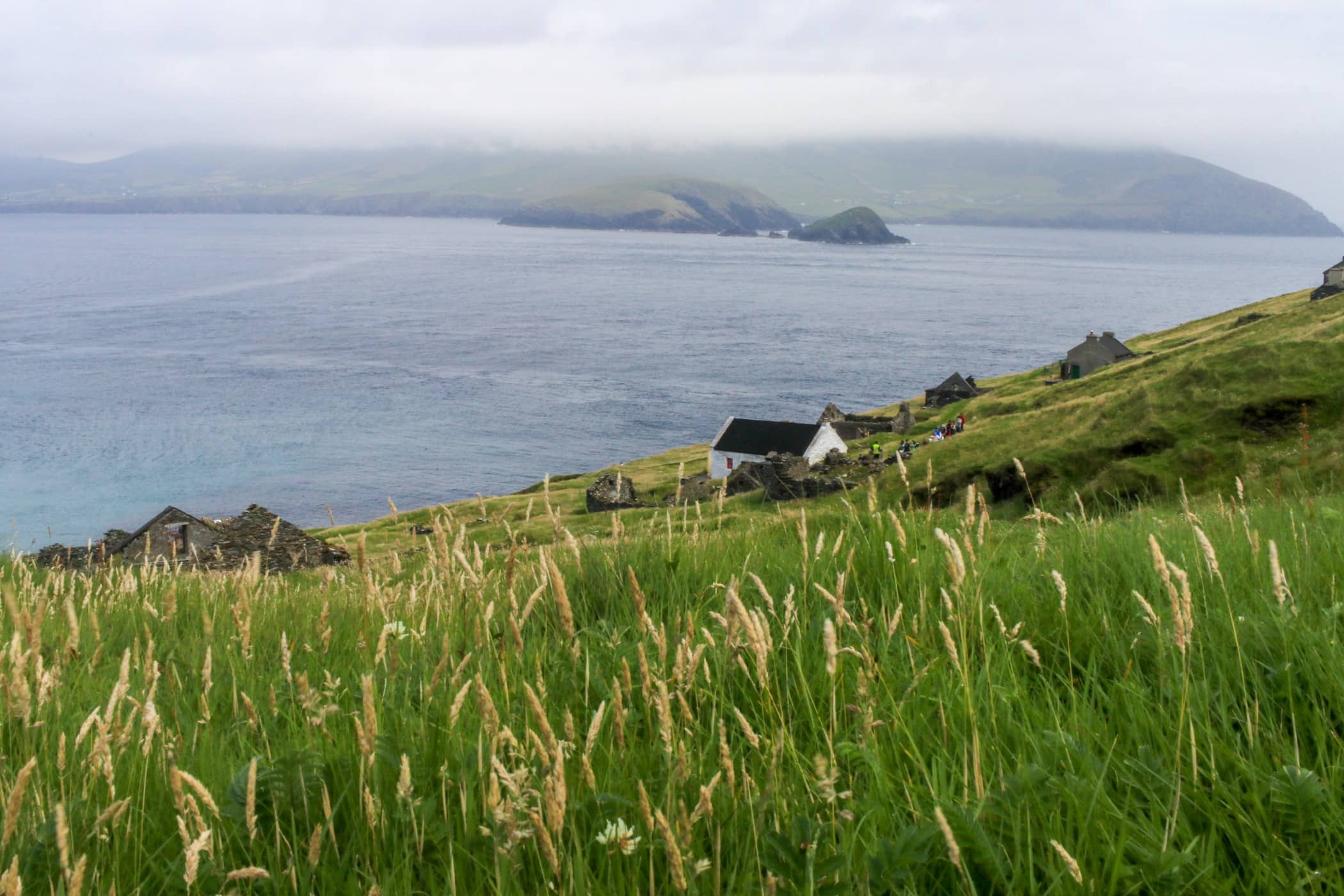 Kerry - Make a break for it
Lush green foliage peppered with bright bursts of wildflowers lines the ancient stone walls giving a totally tropical taste to the Wild Atlantic Way. Then, the narrow road opens out and is surrounded by towering peaks with distinctive features and home to gravity-defying sheep and goats. Below, dark blue lakes shimmer in the summer sun. The views are seemingly never-ending, stretching off to a galaxy far far away. But this isn't some mythical kingdom, this is the Kingdom, the kingdom of Kerry, and it is magic.
Kerry has just about every landscape you can imagine in Ireland and some that you can't even fathom. It has the highest mountains in the land and with those come spectacular driving and cycling routes along with breathtaking hiking and walking trails. The rolling ocean and beautiful beaches beckon you to dive in, splash around, surf waves and the clear water of the glacial lakes lure swimmers, paddlers and sailors. So, after months of being cooped up at home, the time has finally come to dust off those boots, bikes, boards and boats and make a break for it to brilliant Kerry for a summer getaway filled with adventure and memories.

I don't need sponsors,
I surf better when I'm broke anyway.
Dave Parmenter Surfer
Killarney, The National Park And The Ring Of Kerry
Due to its history, heritage and location, Killarney is one of Ireland's most popular tourist destinations and is a great starting point for your Kerry getaway as it is very accessible by bus, train, car and even air.
It is an ideal base for those looking to explore the Ring of Kerry and Killarney National Park and perfect for those who don't drive as you can get a jaunting car ride, take the hop on hop off bus, use the Killarney shuttle bus or just start walking.
Before your big walk though, limber up with a leisurely stroll around the colourful, lively streets of Killareny and treat your tastebuds to some wonderful food made with local ingredients in the many restaurants, cafes and pubs. For desserts, we recommend grabbing an ice cream.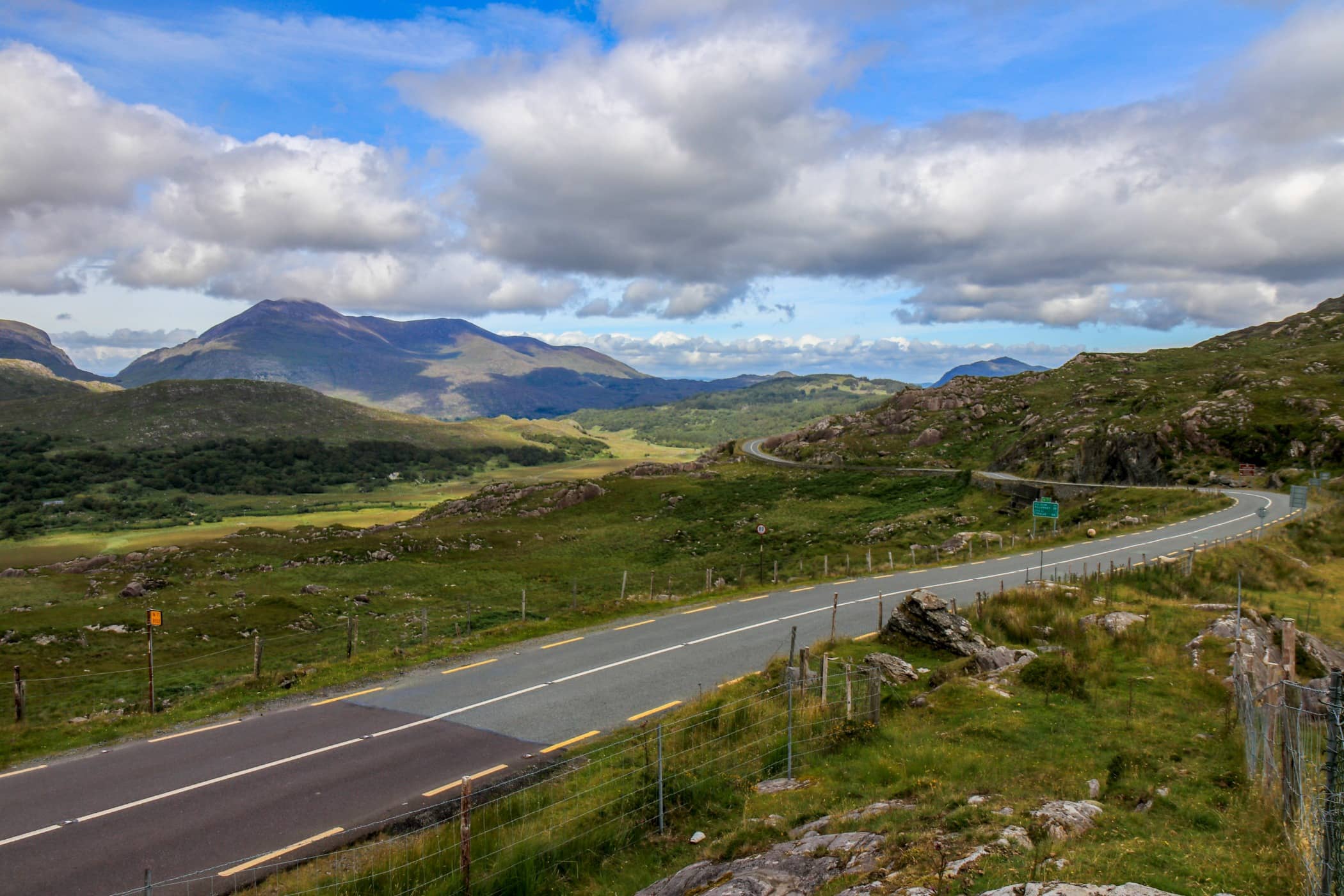 Cycle The Ring Of Kerry
For those with calves of steel, get out there and explore the Ring of Kerry by bike. If you don't have your own gear there are plenty of places where you can rent everything you need. Cycling solo? You'll meet loads of other cyclists along the way as this region is very popular with two-wheeled explorers. It's 180km, so you can take on the whole thing or do it in parts.
Top tip: When you make it to the top of Moll's Gap, reward yourself with a refreshing drink and some cake at the cafe and look down over the steep terrain and enjoy the views of the MacGillycuddy's Reeks.
Kerry from above
If you'd like to get even closer to those magnificent mountains, you can climb, hike or scramble up to the top. No matter what your experience, aspirations or fitness levels, the friendly folk at Kerry Climbing will take you on an adventurous day of mountaineering, to suit your level. Just think of the bragging rights having climbed Carrauntoohil, Ireland's highest mountain.
Follow in the Footsteps of Fionn and the Fianna
For those who like folklore filled fun, the 21km MacGillycuddy's Reeks and Carrauntoohil Entire Mountain Range Walk from Killarney to the Gap of Dunloe follows in the footsteps of Fionn MacCumhail and the Fianna. This is a tough full-day hike but the views and the scenery is second to none and well worth the effort.
Walk The Kerry Way
Another rewarding walk is The Kerry Way, which, at over 200km, is one of Ireland's longest signposted walking trails. Starting and finishing in Killarney, the walk loops around the breathtakingly rugged Iveragh Peninsula and you'll tramp through some of the most dramatic countryside in the whole of Ireland. A walk on the wild side, for those with an adventurous spirit. And for those who come back for more there's always The Dingle Way!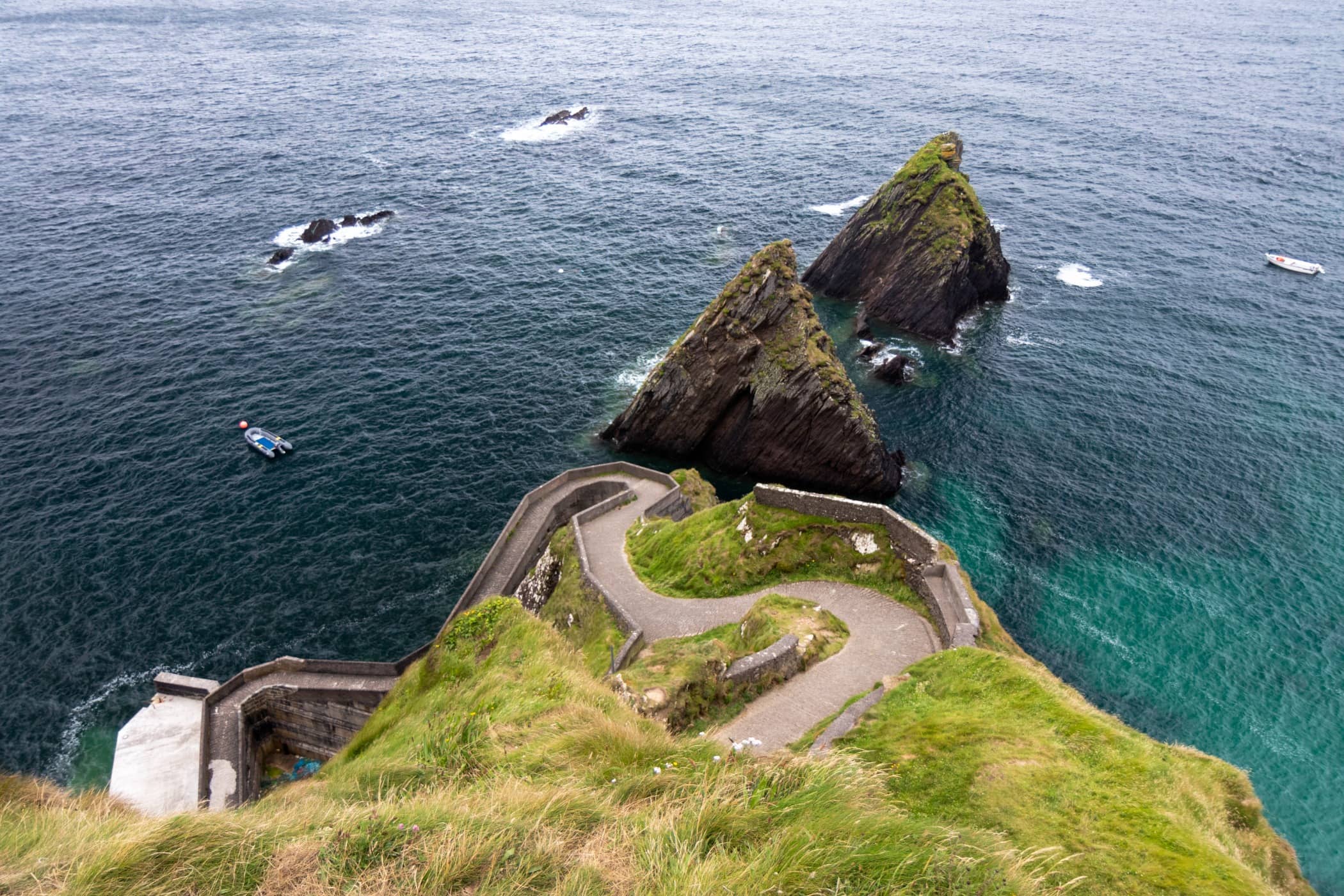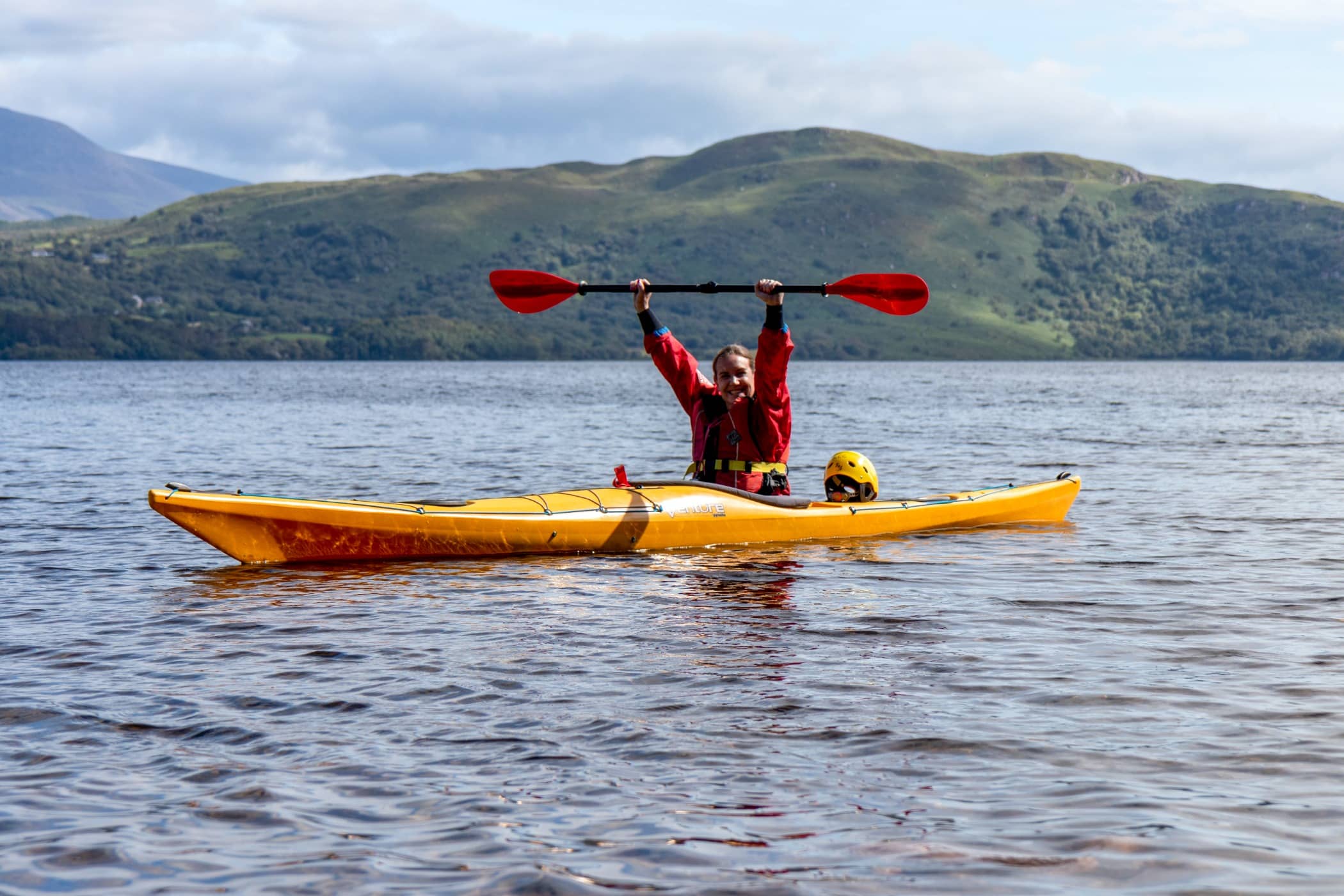 Enjoy a Peaceful Paddle
Whilst the views from the top of Kerry's mountain passes are jaw-dropping, the views skyward are also pretty impressive. Enjoy a different perspective from the middle of Kerry's numerous lakes, which are surrounded by the protruding peaks. Paddle around lovely Lough Caragh in the Reeks District and take in the surrounding scenic landscape whilst having a nosey look at the millionaire lakeside properties and seeing how the other half live. The lotto win dream home!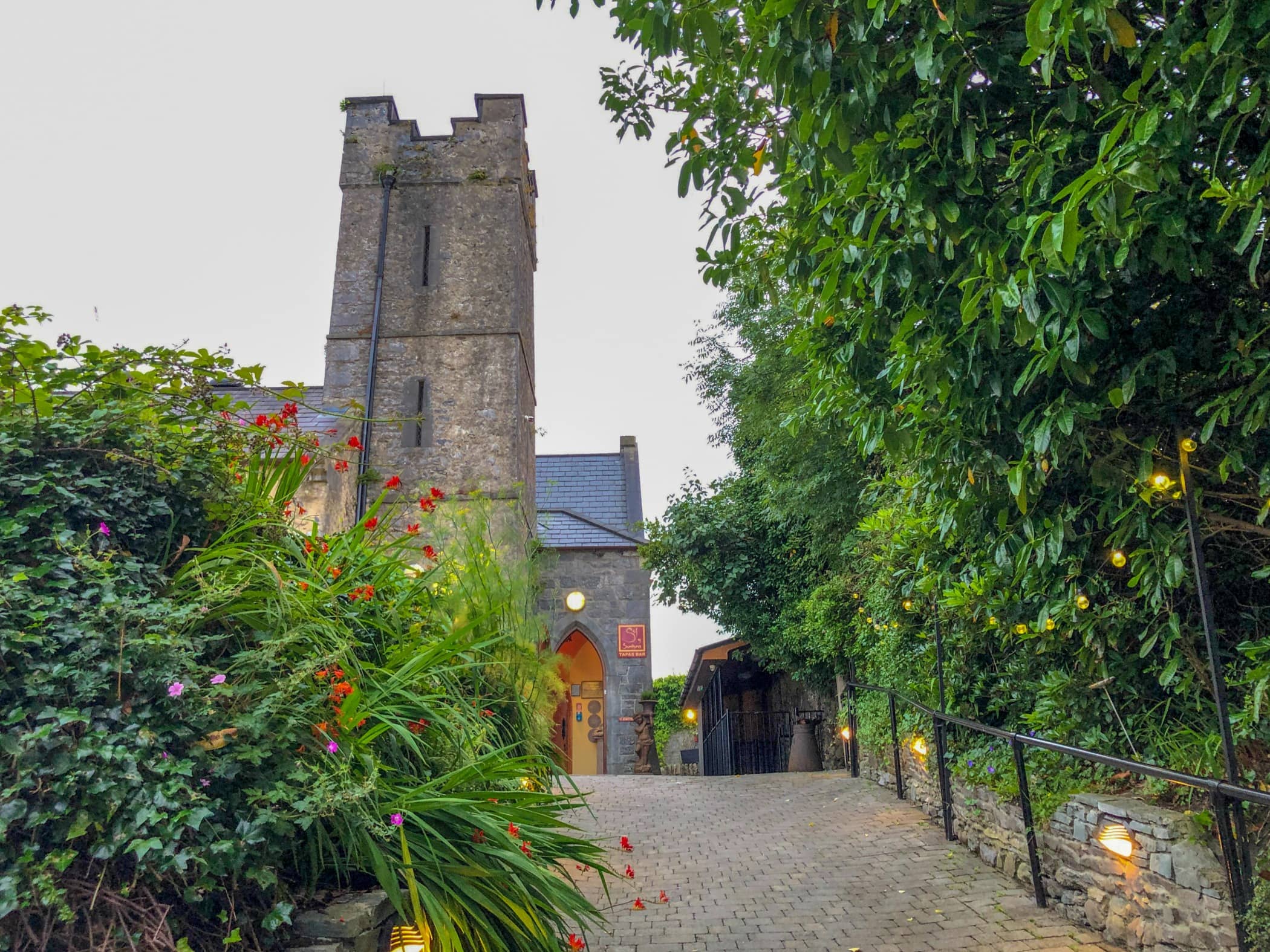 Stargaze in the Dark-Sky Reserve
The Kerry International Dark-Sky Reserve on the Skellig Coast is a perfect chance to go stargazing in one of only a handful of locations worldwide with a Gold Tier ranking. That means that stargazing and the nocturnal environment are some of the best you'll find anywhere. The Reserve encompasses most of the Iveragh Peninsula including Caherciveen, Valentia Island, Waterville, Portmagee, Caherdaniel, Ballinskelligs andDerrynane. Look skyward here at Skellig Coast and on a clear night, you'll see shooting stars galore! Make a wish.
Say Goodbye to Stress at Aloha
For those looking for something to recharge and revive body and mind, especially after some hardcore outdoor activities, Aloha House in Killorglin is a holistic retreat centre and guest house perfect for weary travellers. Unwind with some stress-relieving treatments, yoga classes or a deep sound bath healing session and enjoy the tranquil surroundings and wholesome vegetarian food.
Enjoy Terrifically Tasty Tapas
Whilst in Killorglin, you really should book a table at Sol y Sombra, a terrific tapas restaurant in a beautiful old church. Enjoy the flavourful food, which is a harmonious marriage of Spanish cooking techniques and Irish ingredients, served in reverent surroundings. A match made in heaven!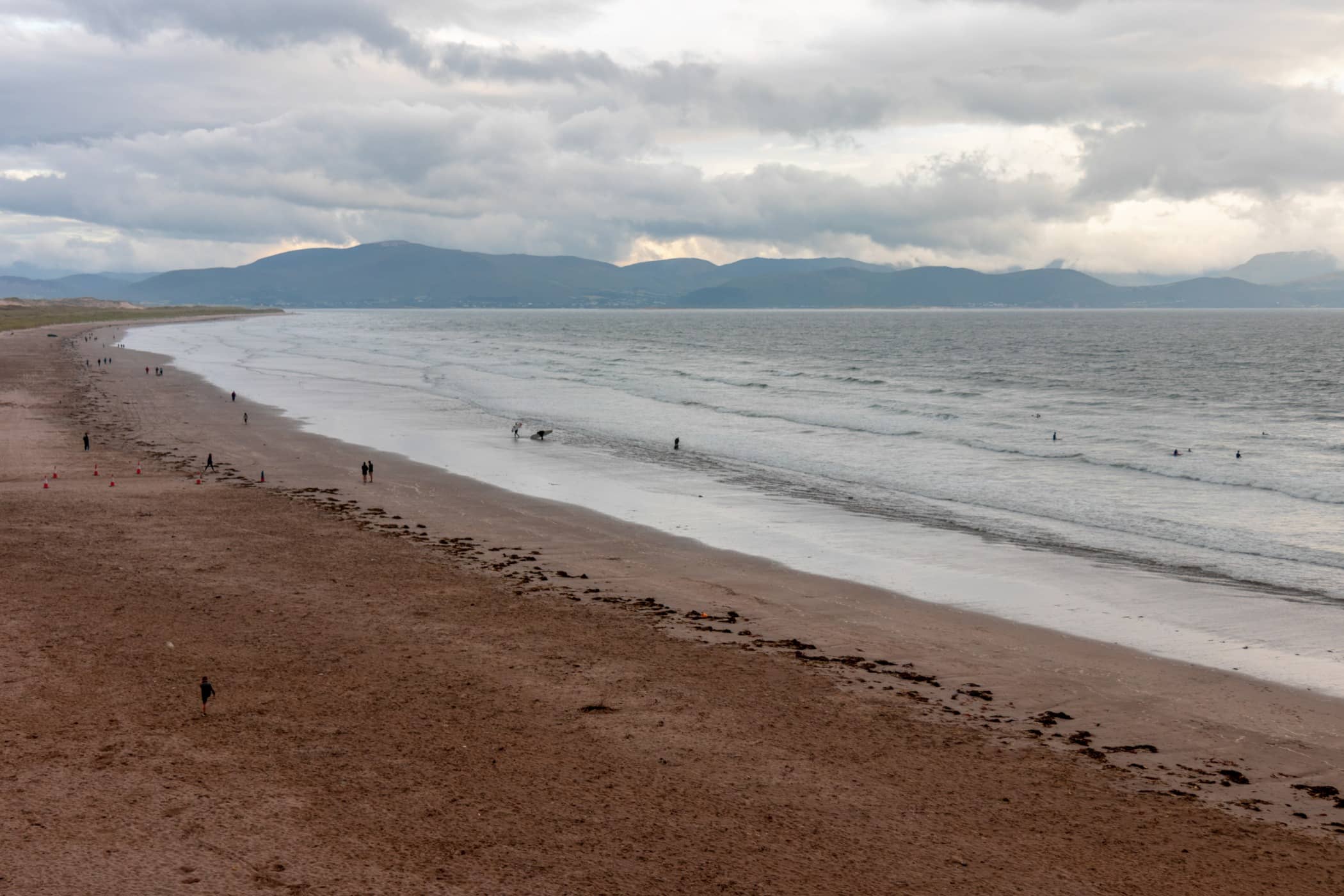 Drive The Dingle Peninsula
Rested, revived and raring to go, head to delightful Dingle to continue the dramatic adventures.
Get The Shot At The Sheep Highway
The coastal road along the peninsula is breathtaking and you'll want to leave yourself plenty of time to stop and take photos at the various viewpoints and the many Star Wars filming locations. Be sure to make it all the way to Dunquin Harbour aka The Sheep Highway and get that iconic postcard image.
Hang Ten At Inch Beach
Along the way, stop at Inch Beach and can catch some waves. If you don't have your own gear, you can rent some from Kingdom Wave Inch Beach Surfing and you can get lessons too. Or, you could just catch some rays on this Blue Flag sandy beach and watch the wetsuit-clad surfers wipe out. You can be as relaxingly active as you like.
Have A Few Scoops
In Dingle, you are spoiled for choice when it comes to things to do. But first, fuel up by eating flappingly fresh fish in one of the many seafood restaurants and enjoy a pint (as long as you aren't driving) in some of the traditional old Irish pubs. For scoops of another kind, head to Murphy's for some of the best ice-cream in the country. You have to try the Dingle Sea Salt and Dingle Gin flavours. I mean, you are here, it would be rude not to.
All Aboard
Then, it's time to get out on the water. You can take a trip to see Fungi the legendary dolphin who has lived in Dingle Harbour since 1983 or take a trip out to the Blasket Islands, the most westerly island group in mainland continental Europe.
Top tip: Fungi usually shows up no matter what boat trip you take. So keep your eyes peeled for this friendly fella.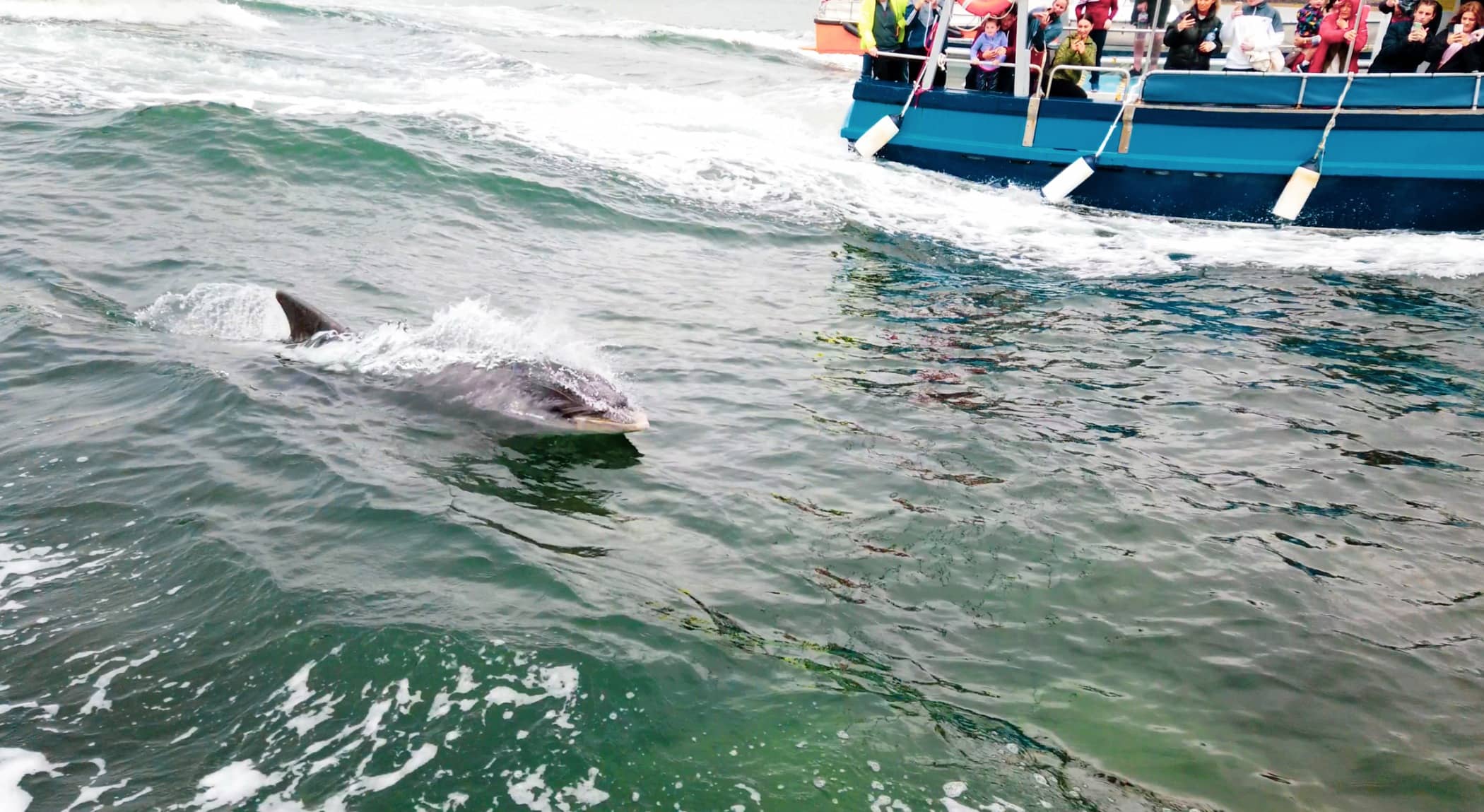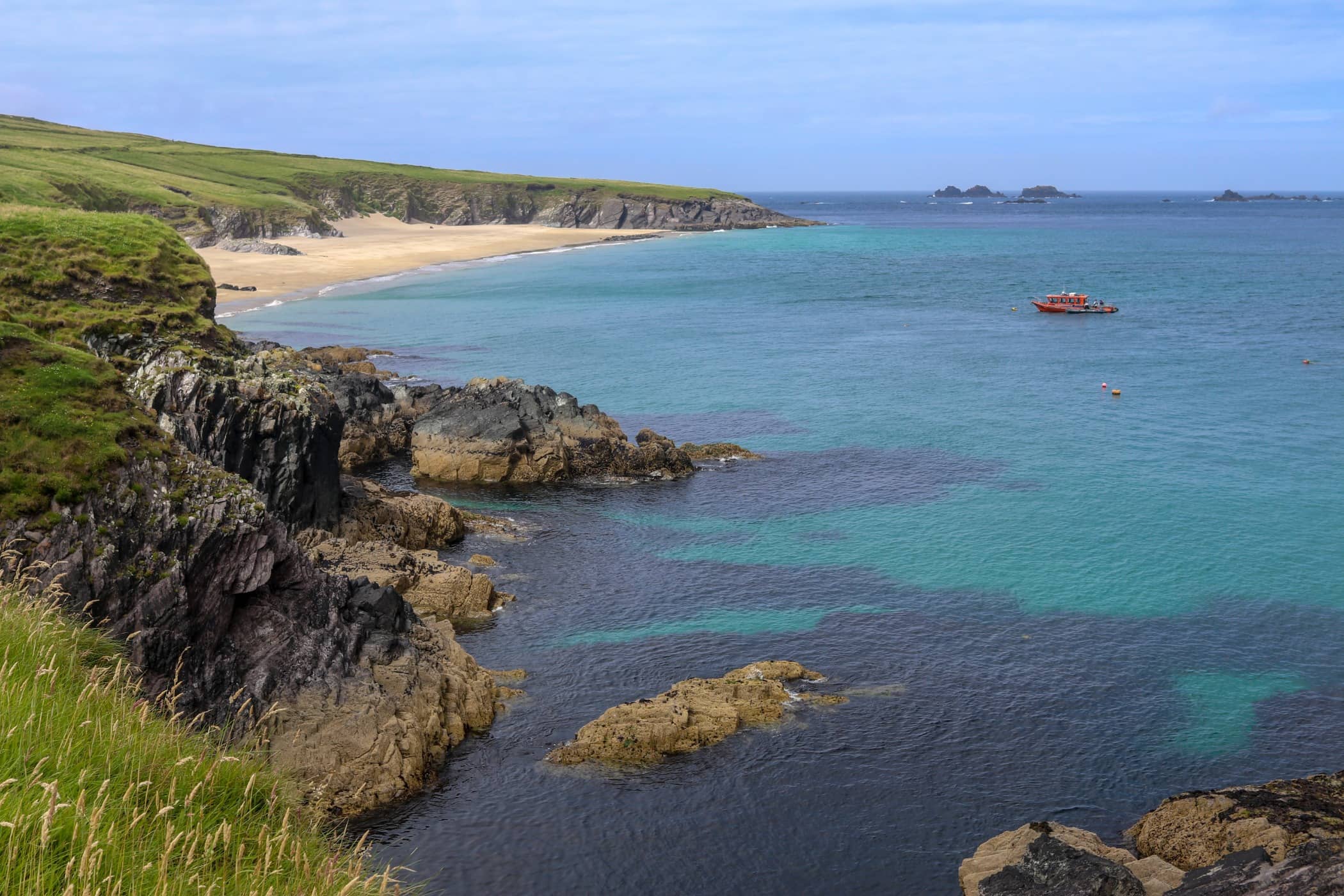 A Great Adventure
As you step on Great Blasket Island you really do feel like you are stepping back in time. Crumbling stone cottages that once housed Peig Sayers (remember her from school?) and her neighbours dot the landscape as do ancient Jedi shelters. Yup, those intriguing beehive houses here are the same as those found on Skellig Michael.

Top tip: The history of the deserted village is fascinating so make sure you join the free tour to hear all about it.
Walk along the sheep trails to the edge of Great Blasket Island and you'll find yourself on the edge of the world - next stop, America. Look out for the Skelligs jutting out of the water out and the Sleeping Giant, also known as An Fear Marbh (the dead man), the northernmost of the Blasket Islands. Once you see it, you'll understand the name. The windswept island is home to loads of sheep, hares and donkeys and that strange wailing noise isn't the ghost of Peig, it's hundreds of grey seals singing to each other on the pristine beach below. An Trá Bán (the white beach) is a magnificent curve of soft sand lapped by clear blue seawater. Looking down over the beach, it is hard to believe this is Ireland - it looks and feels very antipodean. But this is Ireland. And when the sun comes out, there's nowhere else like it. It is glorious.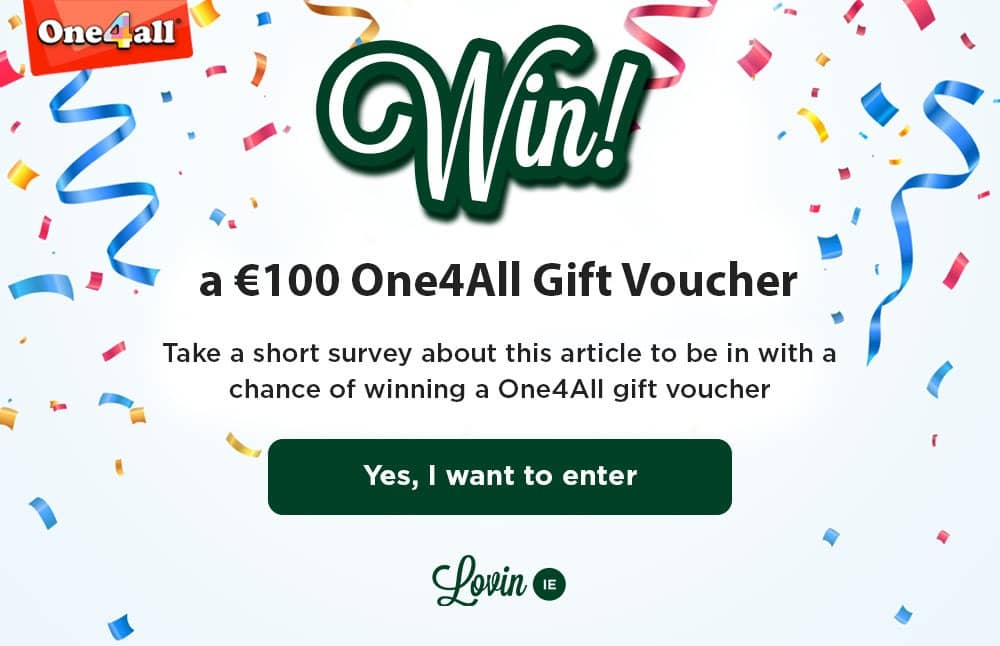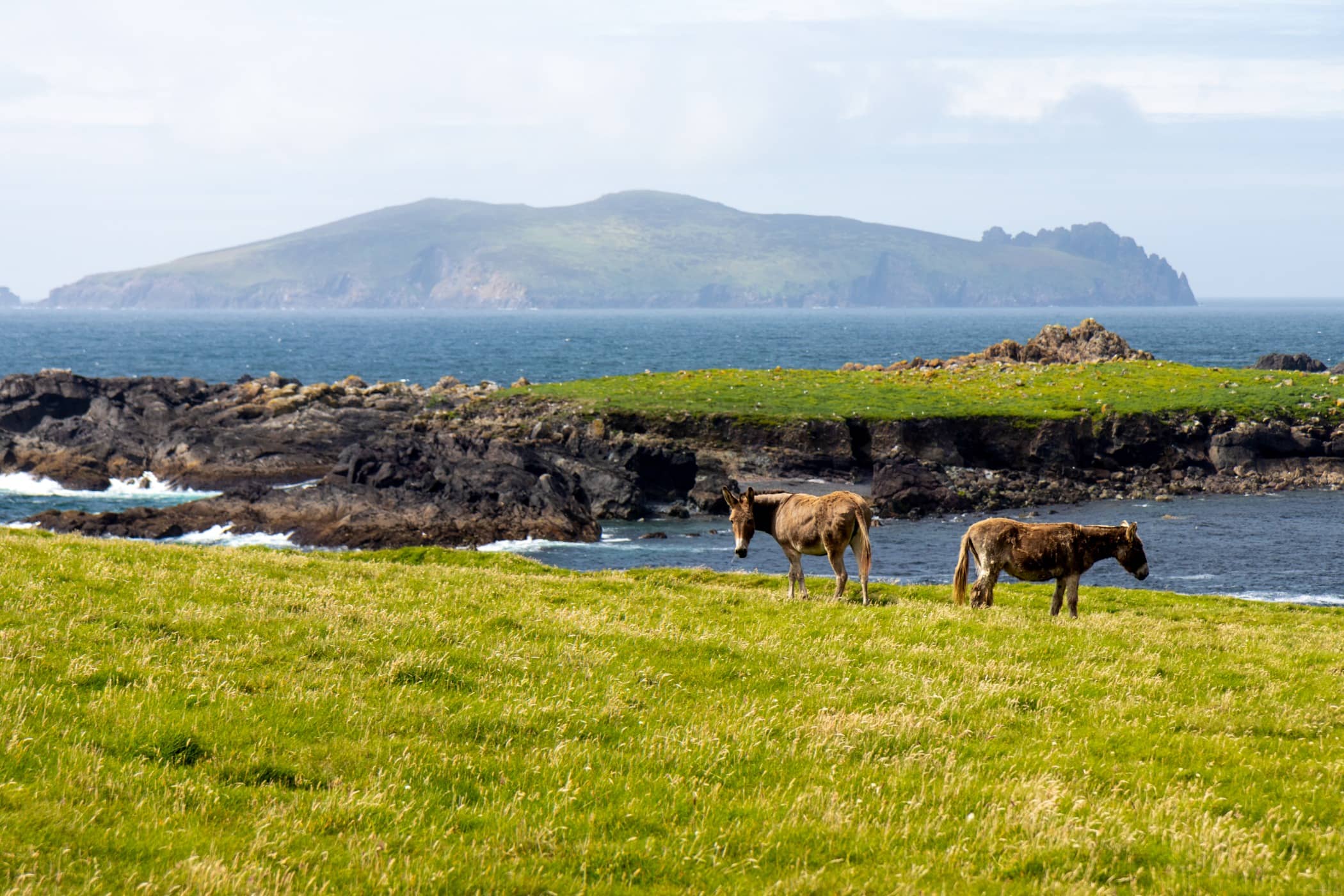 Make a Break For It to Kerry
With its adventurous activities, spectacular scenery and wonderful wildlife, Kerry is a destination for those who's comfort zone is the outside. Throw into the mix fantastic food, folklore and film locations and you have a holiday hotspot that will keep all the family happy no matter how relaxed or active you choose to be.
The kingdom of Kerry is out of this world, yet right on our doorstep. So go on, make a break for it! It's time to start planning, time to start counting down the days and, most importantly, time to get excited for your very own adventure in Kerry.
Limited capacity and procedures may be in place at visitor attractions, sites, and restaurants so you are encouraged to book ahead to avoid disappointment!

In partnership with Discover Ireland